Mardi Gras and Caribbean Carnivals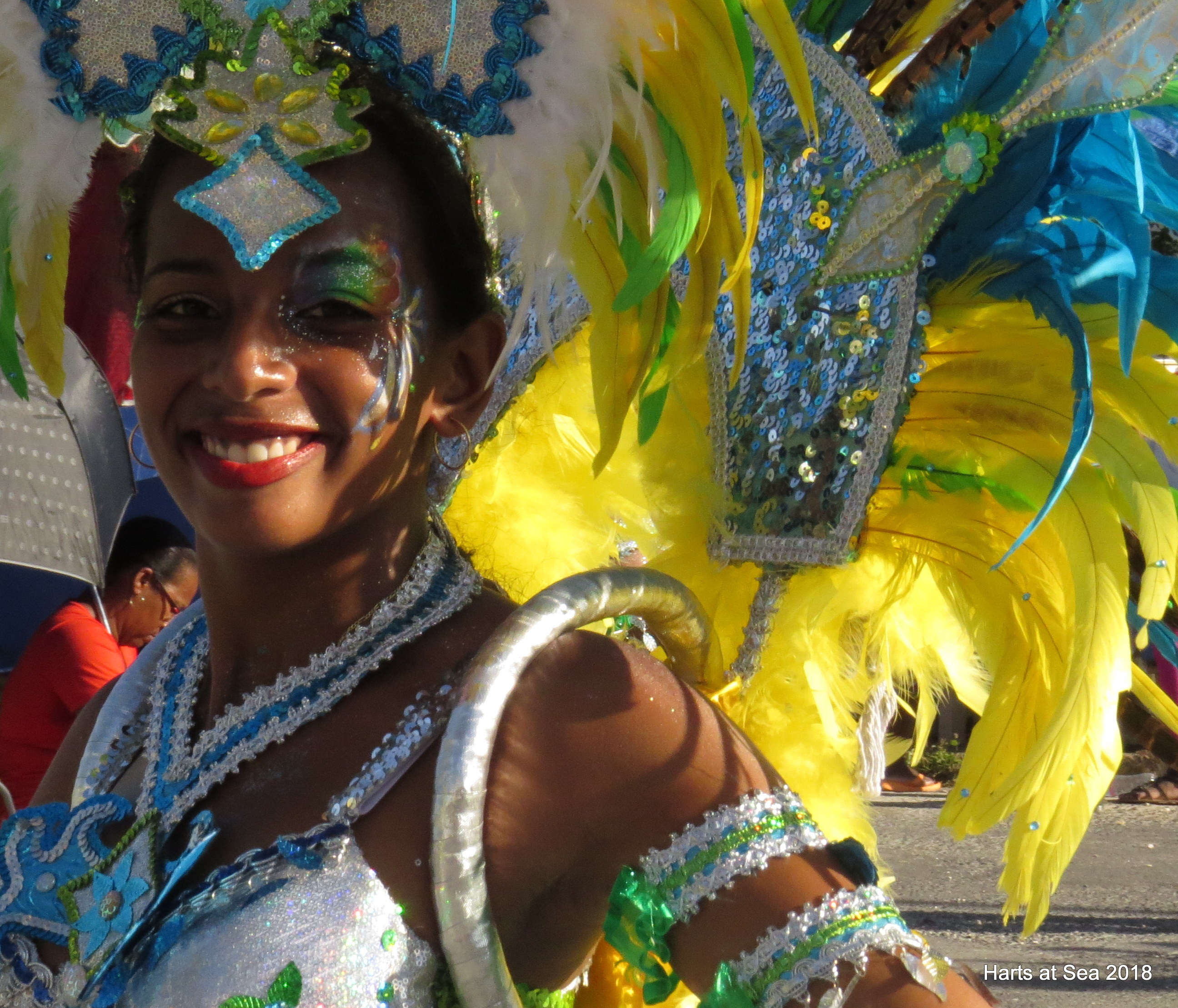 Barb Here
The Divas were aghast when Lynnelle discovered that Mardi Gras in the States originated in Mobile, not New Orleans. That's the sum total of our actual knowledge and experience with Mardi Gras, but if you understand the synergy between Mardi Gras and Caribbean Carnivals, we have a bit of street-cred.
How is Mardi Gras like Caribbean Carnivals?
My sweetie, EW (see Glossary), and I have experienced Carnivals in three Caribbean islands: Grenada, St. Thomas, and Guadeloupe. None of which were held during the traditional Mardi Gras season as only a few Caribbean islands celebrate their Carnival on or near Shrove Tuesday.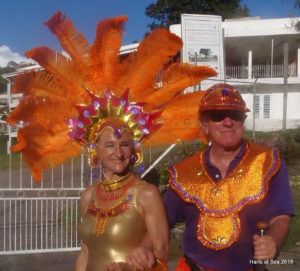 As near as I can tell, the island country of Trinidad and Tobago may have been one of the first in the Caribbean to celebrate Mardi Gras and turn it into a massive Carnival. Other islands followed suit, most of them choosing a different date for their celebrations, creating Carnivals that had nothing to do with Lent or Easter.
Here's what all Mardi Gras and Caribbean Carnivals have in common: music, long days and nights, and elaborate costumes. In the Caribbean, all share their African heritage, and some offer reminders of the evils they endured under slavery. In fact, particular costume designs seen today were created years ago to hide the celebrants' identities as they often made fun of their overseers or owners. Other islands, particularly Grenada, have added a day called Jouvert to the celebration. EW and I avoided Jouvert as (A) it starts at 4:00 AM and (B) participants get covered in motor oil and/or paint. (UGH)
Mardi Gras and Carnival Both Invite Participation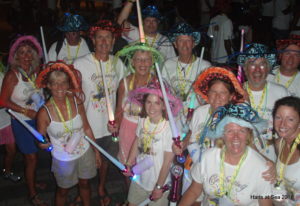 We have participated in "De Mas" an hours-long march at night during which participants pay for t-shirts, hats, favors, and the right to unlimited drinks from the sponsoring truck.  After three hours of boogying to the blasting soca music, my friend Carrie and I got caught simply walking while drinking. One handsome young man smiled as he sidled over to us, saying, "Dere is no walking in de mas. Dere is only dancing." We danced. A day or two later, we attended the parade with its elaborate costumes, purchased by locals and cruisers who would choose to join and march with a particular group. The Teva Diva did not choose to purchase and wear a gold bra and feathers in public.
Guadeloupe Carnival: Best Bands and Longest Parade
In Guadeloupe, the Carnival parade lasts hours and is televised and had marching bands. For the win. Also, if you missed Mardi Gras, you still have time to travel to a Carnival in the Caribbean, US, Canada, or England.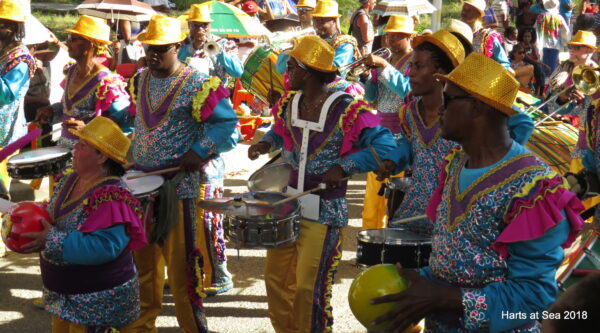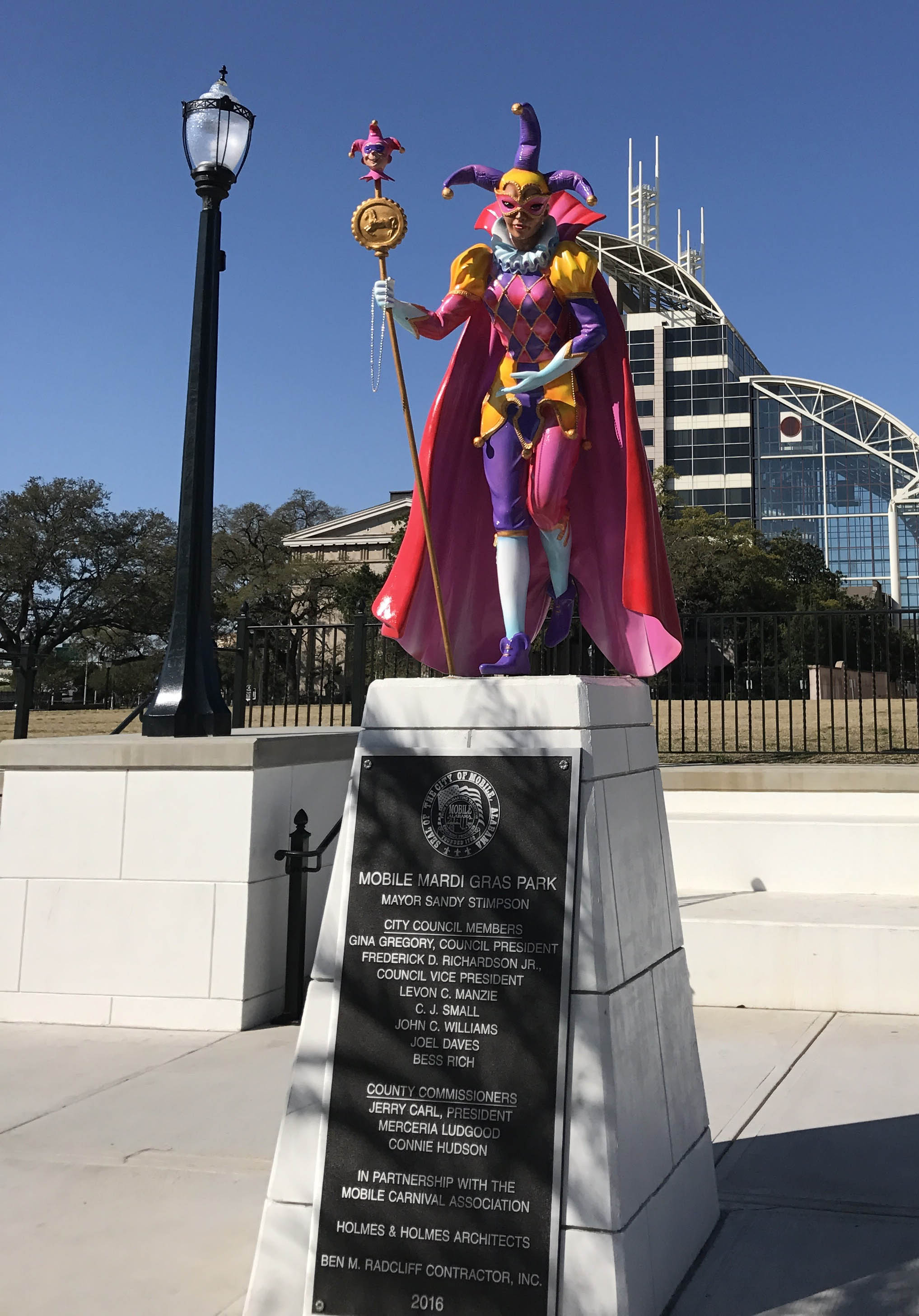 Lynnelle Here:
Heels Diva here, being a bah, hum-bug, old lady….well, not really old lady but certainly, you may call "bah-humbug" on me. I'll admit that Mardi Gras is likely THE "holiday" I'd rather miss than celebrate. Perhaps I'd feel differently if I had been raised where Mardi Gras was a fun festival celebration with lively costumes, music, and food rather than (my perspective) an excuse to drink to excess and disrobe in public.
Looking back over what I've just typed above—I'm tempted to delete it and say something luke-warm, like, "Oh, it's something everyone should experience once."…but that's not the deal Barb & I made with each other when starting this little journey-of-a-blog. So – I'll leave the unplugged version, raw and unfiltered.  Bah-humbug.
However, I will say that I've never been to New Orleans for the actual parade/celebrations. My perception of Mardi Gras is from hearsay and local media coverage about the New Orleans event.  I've not been to the Mobile, AL celebration, and as Barb mentioned above, I was shocked to find out that Mobile is actually the birthplace of our country's Mardi Gras history. Carnival festivals in the Caribbean, Brazil, and elsewhere, don't fall into this "perception". I don't know exactly why, but I imagine the carnival celebrations to be cultural events celebrating a heritage more personal to the revelers.
So there you have it.  Bah-humbug. I'm saving up my celebratory energy and calorie allotment and investing both in tomorrow, Valentine's Day. The menu is Chateaubriand with Red Wine Reduction, Mashed Potatoes, Haricots Verts, a bottle of bon vin rouge and a dessert of chocolate covered strawberries. See tomorrow's post for recipes. (Pictures and a review will be added.) .
If you ever wanted to know where 107 Mardi Gras celebrations were happening, here's your link. Click on Mobile, AL to see all the celebrations there. They are 5-days long, starting the Friday before!
---
---