Have Yourself a Happy Little Holiday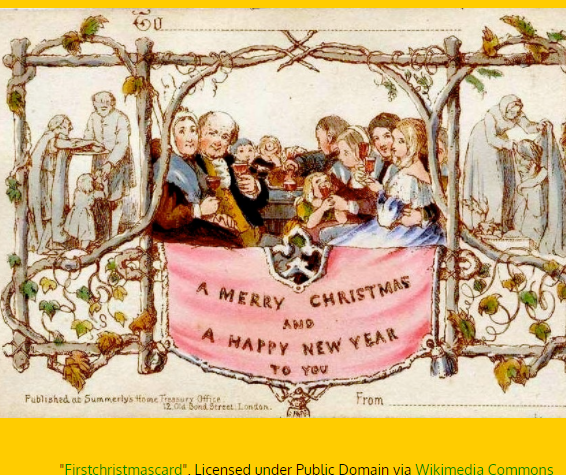 Barb Here
I don't miss Christmas Cards.  Yesterday I was in line in the Post Office, waiting patiently, and listening. One young woman was putting holiday stamps on a big pile of cards and gleefully exclaimed, "I only have 27 more to write tonight!" I do not miss that. We haven't sent cards since 2010 when we left to go sailing. After that first year, I no longer missed receiving cards, either.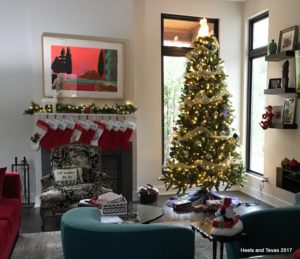 Both Lynnelle and I are contemplating the practice of simplifying as it relates to our respective needs, lifestyle, and future plans. We are, of course coming from a different space: new home/old boat, >100 miles from family/<1000 miles, gourmet kitchen and space/galley and no space—but both of us want to enjoy the best of the holiday season without driving ourselves insane. And we both want to focus on what is important to us, not what is expected or dictated by convention.
Since 2010, Every Happy Little Holiday Has Been Different
This year, EW and I will attend two Christmas parties and spend Christmas at the home of friends here in St. Augustine. Lynnelle has invited her Sweetie's three daughters and
their guys (and the precious new grandbaby) to spend the holidays in their new home. She's been decorating, shopping, hanging stockings, and trying recipes. I've made the requested appetizer for this evening, and "decorated" our under construction boat with my favorite ornaments. I think we are both doing exactly as we wish to do this year, creating our own "Happy Little Holiday". Perhaps it's taken us 50+ years to know what that is, but it shouldn't have.
Christmas used to be hectic with a trip to Niagara Falls from Maine or staying put and hosting a party on Christmas Eve, 80-100 cards, NS buying and wrapping (ugh) lots of presents. I didn't let go of all of that until we set sail and I suspect if we were still living in a home in Maine I'd still be doing all we'd done before and more. But I don't miss it. There's a lesson there.
Have Yourself a Happy Little Holiday—Your Way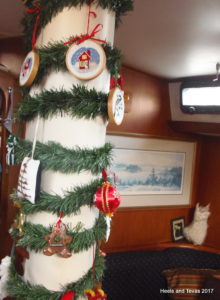 My grandniece in Maine was on Facebook this morning apologizing for not getting any Christmas cards out this year. She has a full-time job, very important charity work, and
a three-year-old. I told her to "let it go".
Do what you love. Do what you can. Do what makes you truly happy.
Lynnelle and I are working on identifying and focusing on what's important to us in 2018. We will let the rest of it go.
As my favorite yoga instructor would say, "Let it go. Let it completely go."
If you want to know where some of our traditions began, including the first Christmas Card, check out this site.
---
---