Anti-Aging Creams for (normal) Women (on a Budget)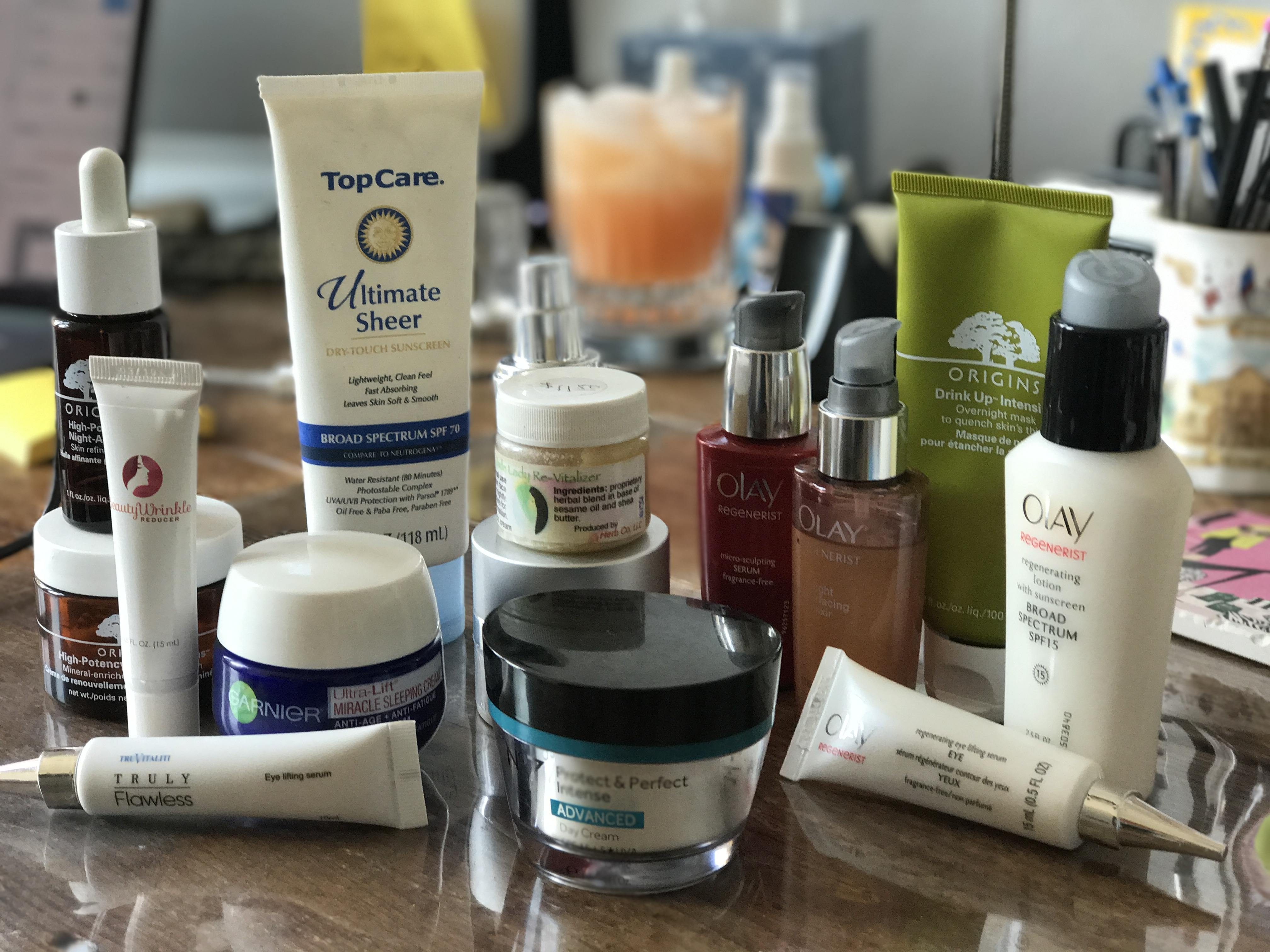 Barb here:
Goop" is what my dad called mom's anti-aging products—usually just after he kissed her and got a taste of something that didn't appeal to him. (Perhaps bacon flavored facial creams would have a market?)
My mom, was a well freckled red-head. (She would say "auburn". I was known to say "carrot-colored" until I learned tact.) When she died in her seventies, her salt and pepper hair was salt and chili peppers, and her skin was flawless—soft, unlined, and beautiful.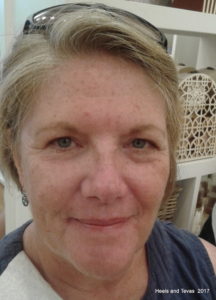 I have led a different life. I have spent many hours in the Caribbean sun, with sunscreen as my moisturizer. Except for the sunscreen, my use of facial products has been erratic. I will do very well for a week or month, then slack off, then become a fanatic—and the cycle goes.
After the $5000.00 (ahem) facial and EW's joy in the new look of my one eye (grr), I decided to step up again. First I did some research and started looking around for highly rated, fairly benign, easy to find, and reasonably priced skin care products.
Fortunately, the attached article was just what I had been looking for. And double surprise, the whole list of 49 products didn't add up to $5000.00—and no one would purchase all 49, anyway. Many were competing products.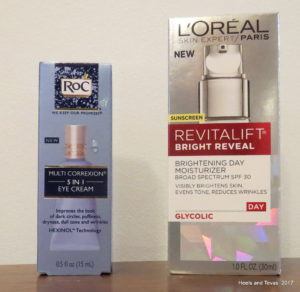 So, I made sure the link to the article was on my phone when I meandered into our local pharmacy and a nice clerk helped me find my two choices: ROC 5 in 1 Eye Cream and L'OREAL Revitalift Bright Reveal. Despite the name which seems to promise to reveal all wrinkles and brown spots, the latter is a day moisturizer with SPF30. Both companies need better writers for their packaging. ROC promises that their 5 in 1 Cream "Improves the look of dark circles, puffiness, dryness, dull tone, and wrinkles." Seriously, improving the dark circles and puffiness isn't the look I'm going for.
Still, I purchased them, brought them home and dutifully took before photos. Because one can't expect miracles for $50.00, EW will just have to wait a few weeks to get a younger looking wife. Hope he likes the improved dark circles and puffiness. Bless his heart.
Lynnelle here:
Since I "retired" earlier this year, I've not had to purchase any makeup, cleansers, creams or other anti-aging goop. That's because prior to retiring I loved trying different products, anti-aging creams, makeup, you name it. While working, I could afford it. Now, I'm going through all the half-empty tubes and bottles and am almost to the point of needing to shop for new. Even though I've sampled various potions and anti-aging lotions, what I found is the most expensive, nor the concoction with the weirdest ingredients are the best; at least not for me.
There's one brand I use regularly, Oil of Olay Regenerist. It's a great, reasonably-priced product, but what I think makes the biggest difference is rotating facial creams every few days to weeks.
For example, I'll use the Oil of Olay Regenerist day cream, the eye cream, the night care, etc. etc. and every few days to a week, I'll change to whatever I'm trying at the time. Today it's Boots No. 7 and Origins. I like them both. Not sure if anything I've used has been life changing. But I like them, but I'm not terribly picky. I'll continue to stick with what I know and what I can afford and try various new things when they come along.
My criteria for the facial creams I use is sunscreen, at least 15+, for day; not too greasy for night (or day), easy to find, not terribly expensive per oz, and it doesn't stink. It doesn't have to smell GOOD, but it can't stink. I have a night potion I bought at a farmers' market. The Chinese gentleman bottled herbs, created a number of 'elixirs' to cure everything from nervousness to night sweats.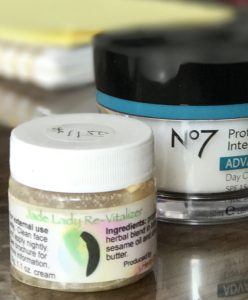 One of his creations is Jade Lady Re-Vitalizer. It's a "proprietary herbal blend in a base of sesame oil and Shea butter" and does it STINK. B.A.D. I wore it a couple of times and finally Kurt says, "I can't sleep in here if you're going to wear that. It makes me gag." I was actually getting used to it so didn't notice too much anymore. I liked how it made my skin feel in the morning and do think it helped moisturize the skin and reduce the pores. But damn. It smells so bad, I don't use it any more. At least when I don't want Kurt to sleep in the guest room… <wink, wink>
What's your go-to anti-aging cream? Any secret finds?
* FYI, there are Amazon ads and affiliate links in the copy here, which means that if you click on one of them and actually buy something, Heals and Tevas will get a % commission. The price you pay isn't any more or less making the purchase through these links. It just helps the Divas out when you do. You can see our Disclosure and legal stuff for more details or let us know if you have any questions.
---
---