Capsule Wardrobe – Part 3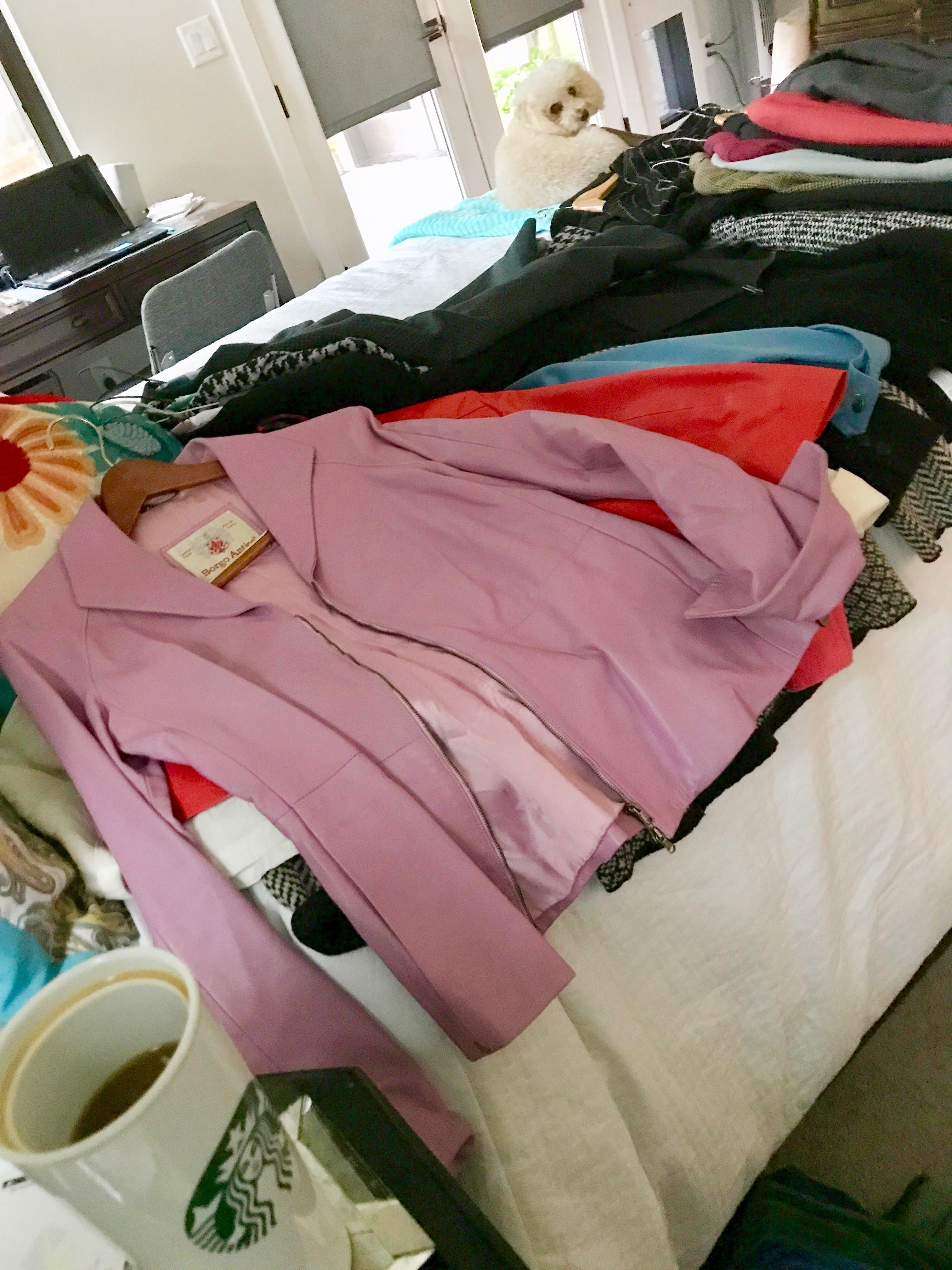 Wrapping up this project of frolicking through my wardrobe, I am breathing a sigh of relief.
Lynnelle here. 
This Capsule Wardrobe project has been eye-opening and I recognize now that it isn't a "one-and-done" project.  Part 1, Part 2 and now, Part 3: the end of this series – but not of my continued quest for simplification.
Capsule Wardrobe – Jackets
This is sad. I didn't realize I have a Jacket fetish until I counted. There are jackets, and then there are JACKETS. Shouldn't we differentiate between suit / office jackets; jackets worn as outer wear OR part of an "outfit"; you know the type – jackets that that are not too heavy (in material, weight or design) to be worn as an "outfit" jacket or an outwear jacket for warmth only.  There's a difference, yes?  Then, there are the outerwear-only jackets (leather, heavy wool, etc.). I am not counting those here, nor am I considering full-fledged coats. <sigh> Only outfit-jackets and either-way jackets are considered here. Most button up or zip up. Only a couple have no closures and are meant to remain open.
Jacket Tally:  Before – 19  After – 10
Capsule Wardrobe – Dresses
I don't have a lot of dresses. Or, I didn't think (I didn't realize) I had a lot of dresses until I counted them. I have 15 office dresses and 3 cocktail-appropriate; 18 dresses. If you look closely at the picture, there are a couple still with the tags. Yep. I didn't lose enough of the weight or girth to wear them. So how's that great bargain now, Lynnelle?? Hmmm.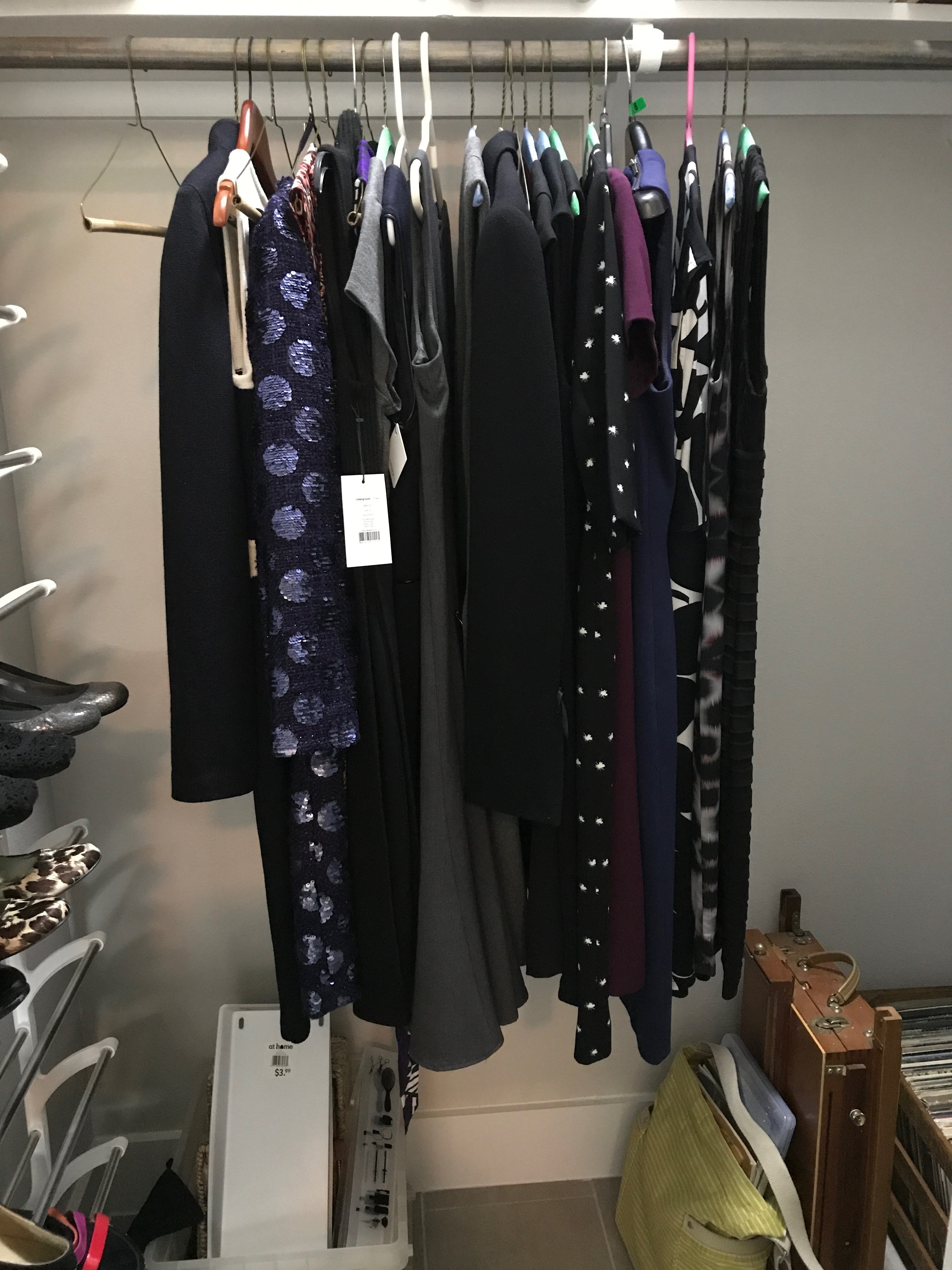 Doesn't LOOK like a lot, right?
Even though I don't need office-wear, I'm keeping 12 dresses; 2 cocktail-appropriate and 10 office, reception, opera/ballet-appropriate. Yes, I try to get cultured every once in a while. I don't need 10 dresses for that, especially that they're all black and / or gray, but still…. I'm holding at 10. For now. Yes, one with the tag still on is included in that. This letting go take time.
Dress Tally:  Before 18   After – 12
Observations from the Capsule Wardrobe "Project"
Embarrassment. Not sure if that's the right term. Ashamed? Not exactly right either, but a mixture of both I guess. So damn many clothes, far too much for one reasonable, professional individual. Regardless that I made a nice salary, the amount of clothing in my closet was ridiculous. Looking back, I wouldn't say I spent too much on clothing. I'd say I should have spent more on less. It seems I shopped for entertainment quite a bit – because I could.
I keep trying to break out of the black and gray world. But… It.Just.Ain't.Gonna.Happen. I'll keep the token red scarf and royal blue top, but the bright turquoise/blue/red print top is gone. Now I need to stick with the official "uniform" and just accept it.
The Total Wardrobe Count
Item
Tops:
Pants:
Sweaters:
Jackets:
Dresses:
TOTAL TALLY
Before
76
26
19
19
18
158
After
36
18
11
10
10
85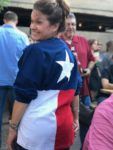 Not included in the final 85.
A 46% reduction in my wardrobe count.  Not bad.  Not what I planned at the start, but I feel good about it.
I could go on and look at shoes and purses, but … I won't. Yet. I'm not there yet. I will, however, do another round and sort through the remaining 85 items after Dec. 1 and before 6 December, when I hit the road heading to visit the Teva Diva and EW. Before I leave for the big Diva road trip, I commit to reducing that 85-count by another 25%, or 21 items. I am not going to get the item count down to the planned 30-40.  Yet.
You'll just have to trust me.
What about you?
Was I on this project alone? Did any of you go through your closet? …even THINK about doing it? If yes, tell me about it. If you thought about it and then didn't, tell me about it. Again, I have to thank you for my completing this. I swear I wouldn't have done it had I not committed to all of you to complete it. And the Teva Diva for reminding me. And reminding me. (I love you, Barb.)
Barb Here
I need to confess that, in addition to pride for what Lynnelle has accomplished, I am also envious. When I earned an excellent income, I did not purchase good-quality items that looked great. I suck at shopping, black is not my color, and I suck at shopping. (Yes, needs to be repeated.) I did join the Heels Diva in this process and have gotten rid of things. This time, I started with one off-white jacket and now have zero jackets. I am excellent at getting rid of stuff but lousy at buying good things that work for me.
Before we set sail again, I will need a good capsule wardrobe or uniform that works. Stay tuned. It's going to be a bumpy ride. Glad I have Lynnelle to guide me—and glad she's brutally honest. I can take it. Really. I can!
So kudos to Lynnelle, the Heels Diva, who undoubtedly still has way too many pairs of heels but one less tacky Texas star shirt in her wardrobe.
---
---