Capsule Wardrobe – Part One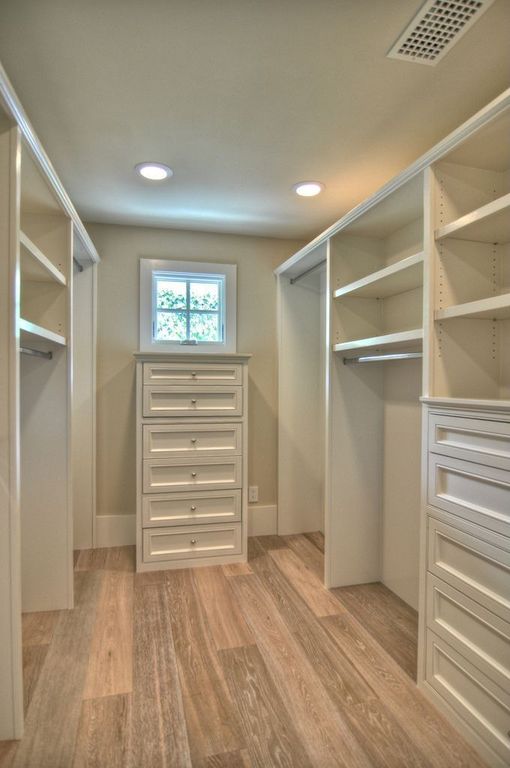 Lynnelle here.
Moving is a good impetus for decluttering your closet and fine tuning your wardrobe. So is gaining 10 pounds or retiring from the corporate world.  When you happen to have gained 10 pounds, moved your home AND retired from the corporate world – well, capsule wardrobe or not, your closet needs to be blown to hell and reconstructed.
My Closet – 'before'​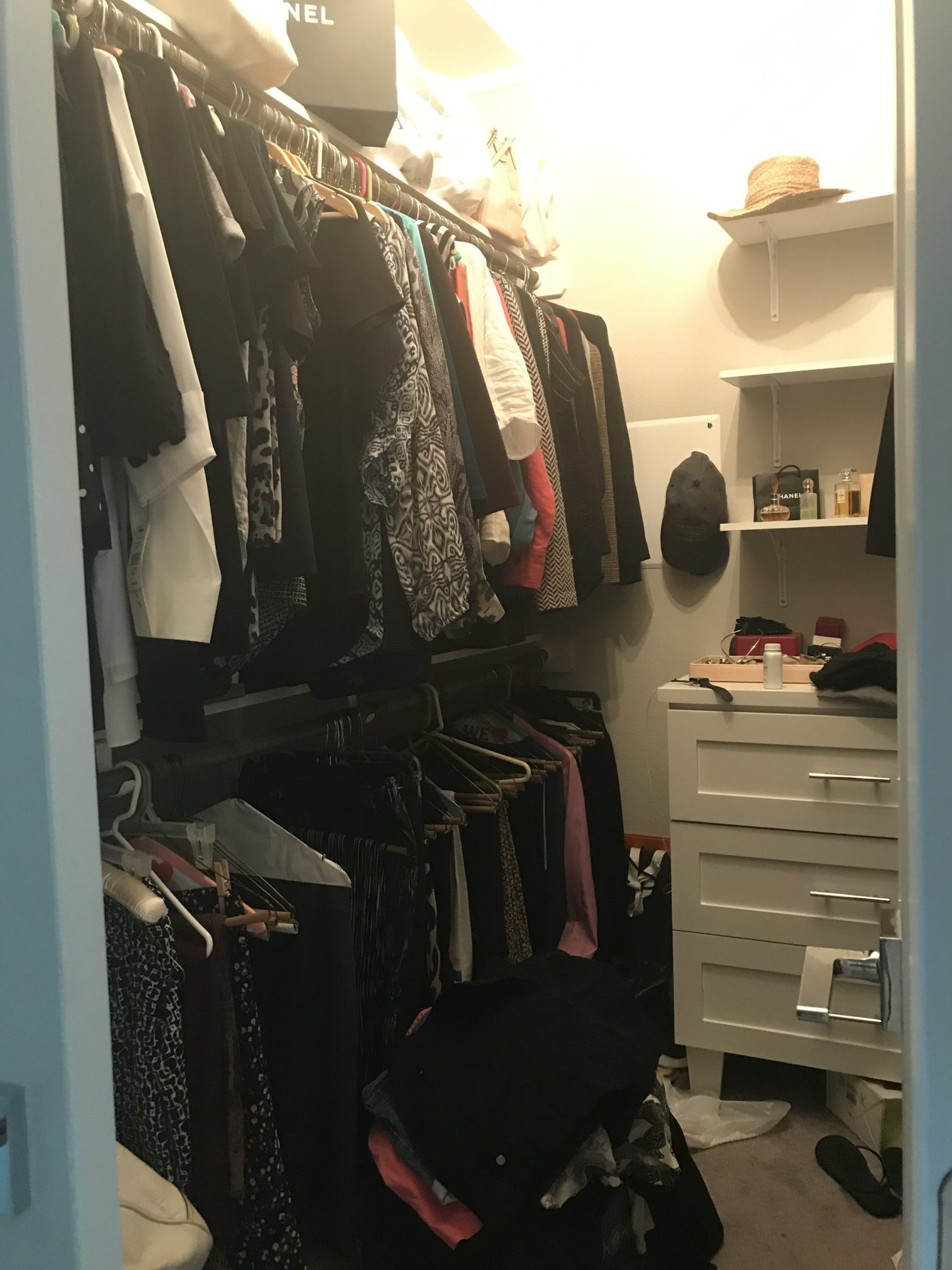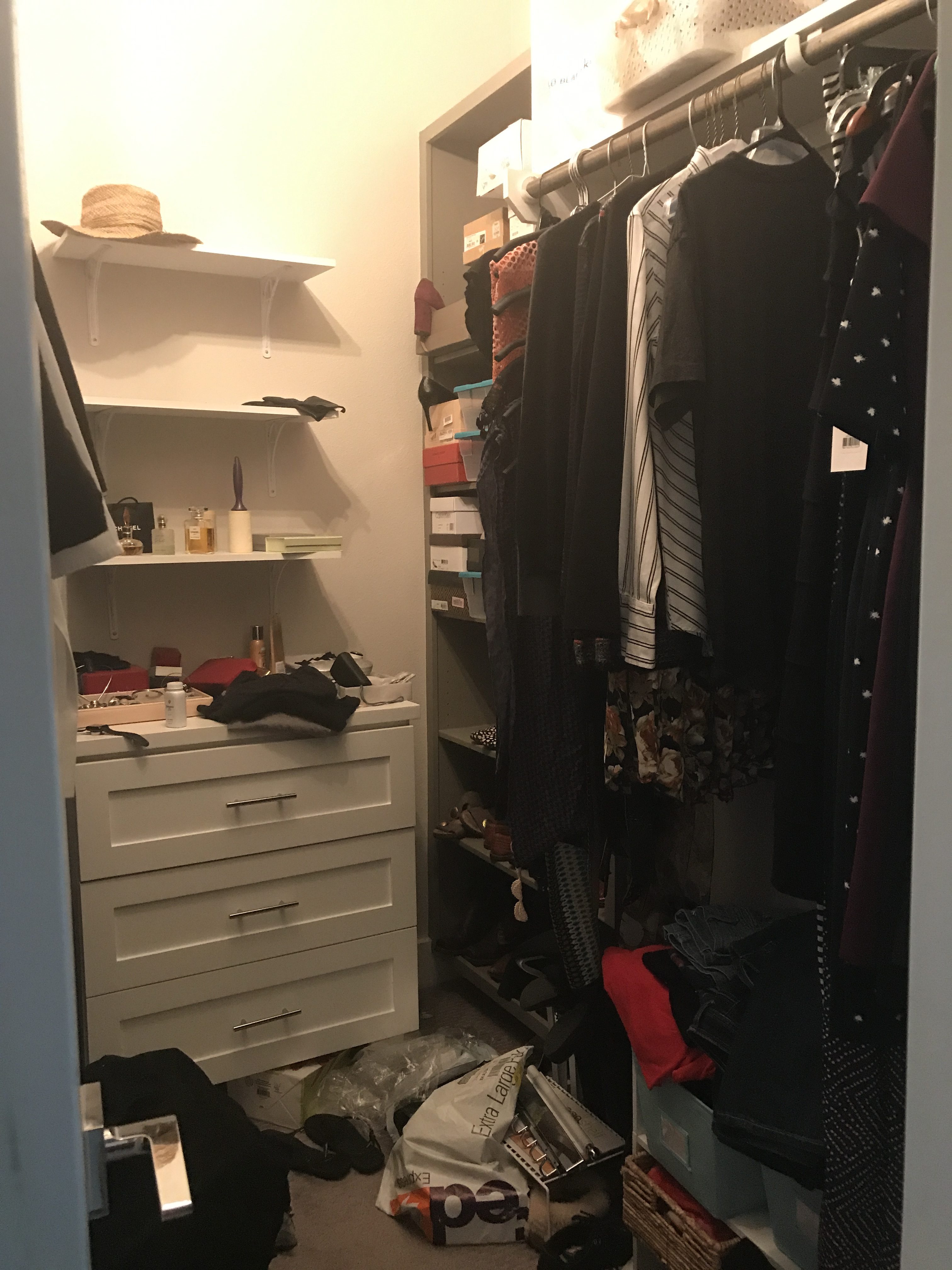 With dual life objectives of 1. Simplifying my life and 2. Economizing (I'm retired, after all), I have determined the "capsule wardrobe" approach that I've been reading about for the last few years is THE approach for me.
My Capsule Wardrobe Project
Part 1 – Capsule Wardrobe: Preparing
Depending on the author, you'll read the capsule wardrobe is limited to 8 to 30+ items. 8 to 30+? That's a big spread, so I think about comparing the variations of "capsule wardrobe" to being a "vegetarian". Do you eat dairy, but no other animal protein? How about fish, but no warm-blooded animals? What about Chicken? Pork?
My version of the Capsule Wardrobe is the "eating dairy, fish and chicken with a possible burger cheat now and then" version. In other words, the larger, a 30-40 item wardrobe is a good place for me to start. (Of course, my version does not include shoes ore bags.  OMG, that would be too painful to bear.)
Where do you start?
This won't be a fast or easy, but where do you even start? How do you decide what stays and what goes? There has to be a rule of thumb, or 2. Or 3 or 4. Here are my 4 Rules-of-Thumb:
Fit
Function
Style
Color
1.  Does it FIT?  Not, will it fit when I lose those 10 pounds – Does it fit my 140-pound ass today? Yes, it goes on to #2. No, it goes in the "Nope" pile.
2.  FUNCTION. Think about my typical week. What percentage of my time is spent in 4 basic categories – Home and running around errands; Smart casual, in-town date night, dinner out with the girls' night; Gym, sweat pants, hanging around eating popcorn and binge watching GOT night; Formal work/office, party-gala events.
[one_fourth_first]My Life
Home
Smart Casual
Gym
Formal Office
[/one_fourth_first][one_fourth] # Items
60
20
15
5
[/one_fourth][one_fourth]My Wardrobe
Home
Smart Casual
Gym
Formal Office[/one_fourth][one_fourth_last] # Items
10
5
10
75[/one_fourth_last]
I'm in trouble.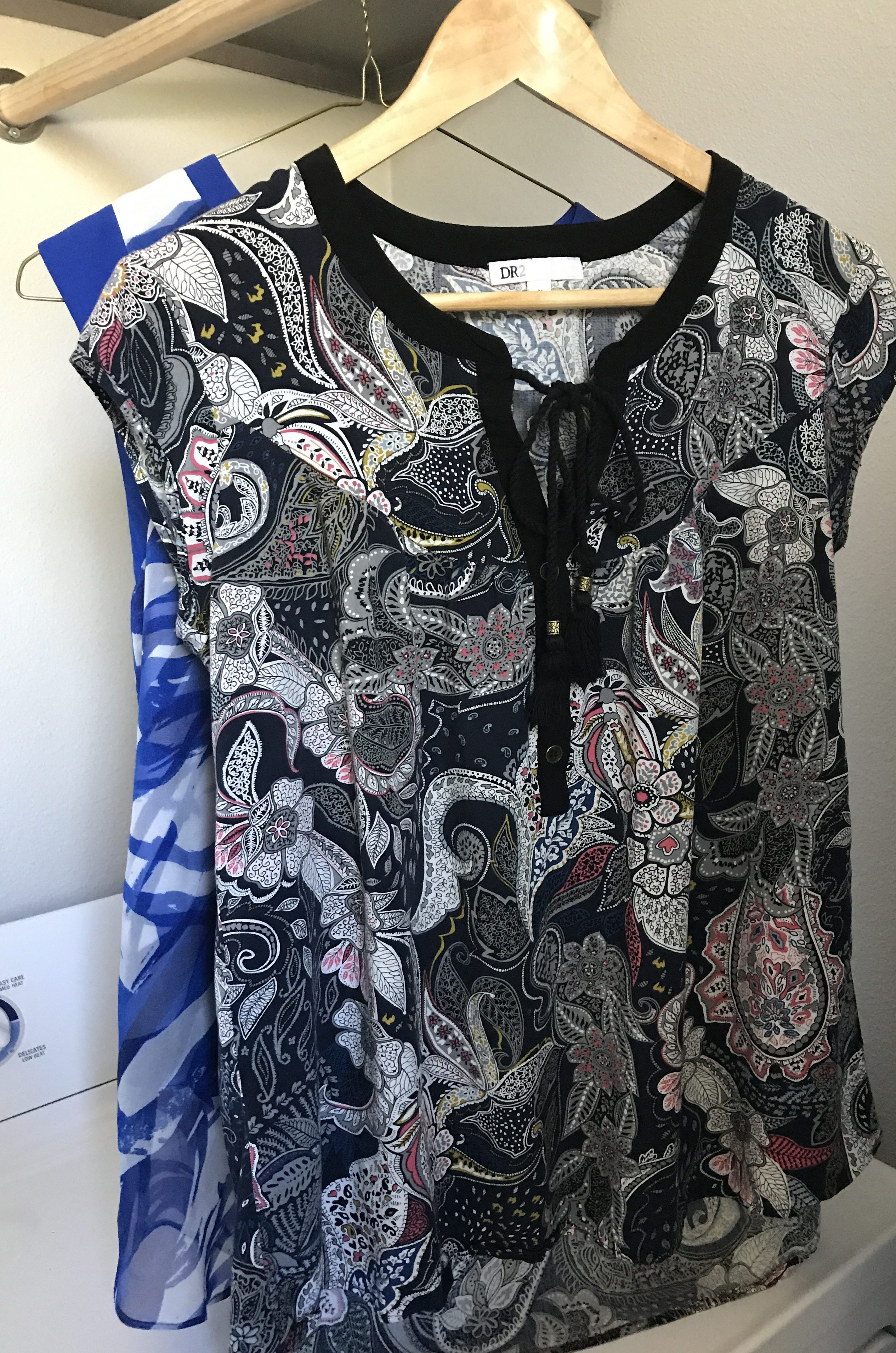 3.  Does the STYLE suit you? I'm not a frilly, flowery, flowy, person. Solids, minimal or more geometric patterns and a classic structure is more me. what was I thinking with this paisley hippie top? (It was such a great buy at the Nordstrom's spring sale.) And, btw, just because a Dynasty remake is on the air, that doesn't mean those linebacker shoulder pads are any cuter; no matter what's on the runways for Spring 2018.
4.  COLOR (or the lack thereof, in my case) is more important than you'd think. Sometimes do you just don't like something and you're not sure why? For me, it's not a conscious thing – but if I put on something too pale, too pastel, too bright or too "cute", I feel very uncomfortable – physically. I'm talking more than "are you a winter or summer person", it's an emotional or physical comfort.  Then, there IS the wearing the colors that look good with your complexion. That's important too. So the coloring evaluation is a dual consideration.
LOTS to weed out. Going through all the items in my closet will take more than a day or two. Not only do I have a lot to go through, I'll also have to work through the anxiety and emotions of getting rid of things that:  1. I paid a lot for and LOVE 2. Still fit and are good quality or 3. Will fit again after I lose 10 pounds.
Seriously, I have an anxiety attack when I just think about getting rid of things.
OMG I'm already stressing and I'm just writing about it! Tell me I'm not alone.
Alone or not, I'm determined.  (Remember, shoes and bags not included.)
Barb here.
 I've shopped with Lynnelle. She likes it and is good at it.
I hate to shop.
This is yet another way we differ. I have to start channeling my inner Lynnelle.
Like Lynnelle, I also have way too many clothes I no longer wear. Most are currently too small because hope springs eternal. Some are nice but not really suited for me because I totally stink at shopping. I have occasionally found the perfect item and then wear it to death. Witness my favorite skort. In the past, I had a few favorite items that were actually fashionable. I have fond memories of a suit from the 80's and two dresses purchased in the 90s. All were worn until dead.
Second, My Lack of Ability is Apparent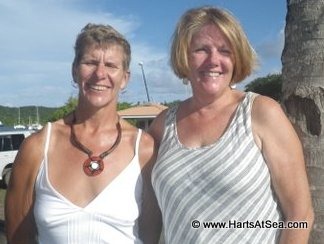 I have no ability to consistently purchase items that flatter me. This was all too apparent when we sailed south in 2010 and my wardrobe was inadequate for life aboard in the Caribbean. First of all, I didn't even own a skort. Second, my bathing suits were made for lounging by the pool, not for snorkeling, cleaning the boat, or attended a music jam on the beach. I didn't own an easy dress of any kind. (To cover that swim suit or wear out on the town.) How bad was it? When fashion savvy Cathy and her DH Stu visited us in Grenada, she left this dress for me. I wore it until it died.
Third, However, I Can Learn
So, as we prepare to set sail once again, I am determined to discover my perfect capsule wardrobe. I will take my time, I will only purchase things I truly like and that look wonderful. I. Will. Take. My. Time. I've already started a list, and we don't plan to head to warmer waters for over a year. I. Will. Take. My. Time.
I will peruse blogs and articles. I will try on clothing even when I don't plan to purchase. (Some of you recognize this as "shopping"; I call it torture. Shopping is going into a store finding something that works, buying it, and figuring out in about a week whether it was a good purchase or not. I will take my time, and I will only buy clothing that fits.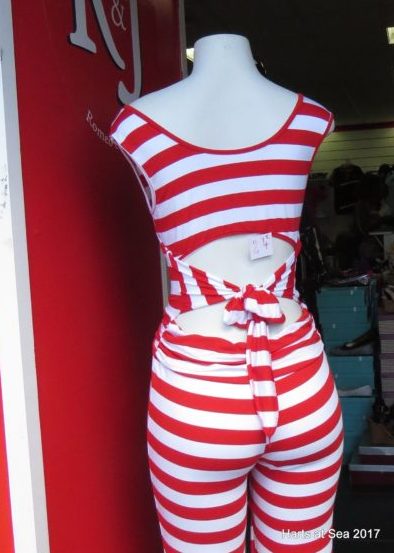 Example: In Guadeloupe in 2014, EW and I decided to purchase one item of clothing from a nice French store. I refrained from buying this striped jumpsuit because I'm not totally delusional.
Instead, I purchased a lovely white skirt that was just a bit too small. I still can't wear it. Living on a boat, we have much smaller closets than Lynnelle. My space will easily hold a capsule wardrobe but it does not hold the multiple bags of clothes stowed away because they don't fit, don't work, or I don't like the color. There, you will find that lovely French skirt.
The moral? While personal styles and space for storage may differ, the majority of us may need to take some time to figure out what we truly need, to let go of what no longer works, and to move on with a capsule wardrobe to suit our own personal vegan, vegetarian, or fish and seafood life.
---
---