Capsule Wardrobe – Revisited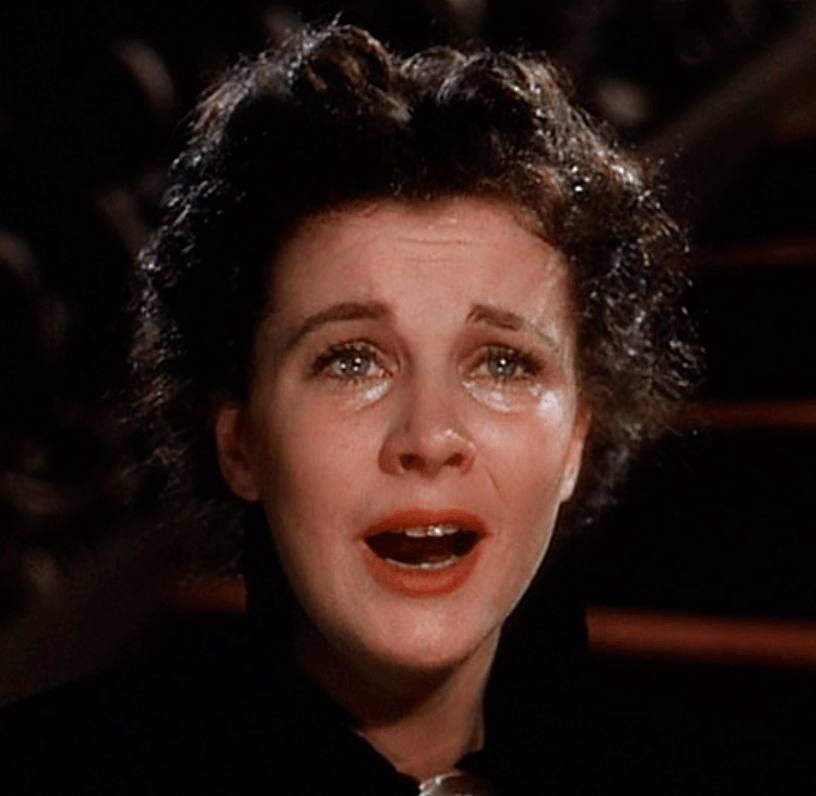 Back in September, last year, we wrote a post that was the beginning of my quest to simplify and downsize my closet. That quest resulted in 3 additional posts and, while I made good progress, I didn't officially "get rid" of any clothing. Instead of actually donating or tossing anything at the time, I put the excess items off to the side pending … what… a change of heart, a change of weight, a reason to finally wear that sequined bustier… . WHY IS IT SO HARD TO GIVE IT UP!?
Fast (fast, fast, fast) Forward 3 months
Here I am over 3 months later and I've not had a change of mind, I HAVE lost 10 pounds, but not enough to fit into those no-longer-in-style skinny jeans, and there has never been, nor ever will be a reason for me to wear that sequined bustier.  To top it off, my life is totally different today than it was when 90% of my wardrobe was purchased – making 90% of my wardrobe irrelevant for my lifestyle.
It. Is. Time.
There are three places irrelevant items are going – THIS WEEK; not tomorrow or later; before the sun comes up Monday:
Trash
Goodwill/Salvation Army/Dress for Success
Tradesy
Remember the 'before' picture of my closet – below.
[one_half_first]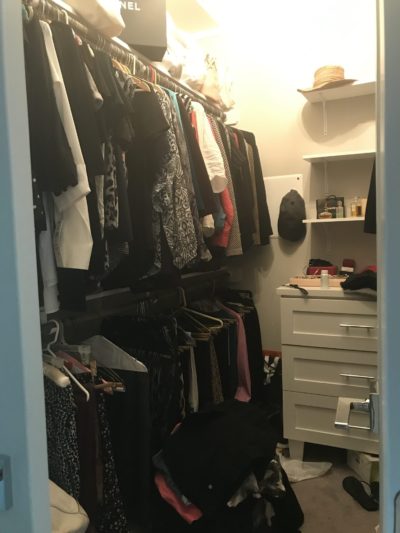 [/one_half_first][one_half_last]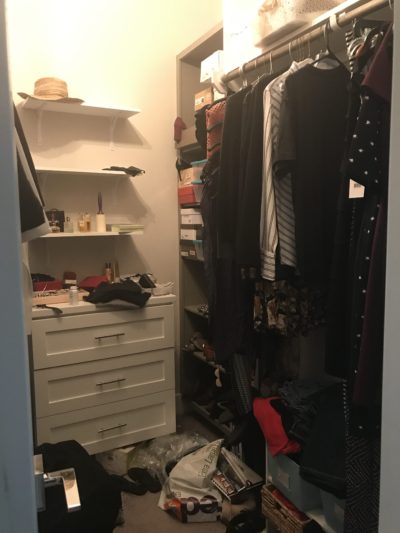 [/one_half_last]
Here's the new and simplified closet now.
[one_half_first]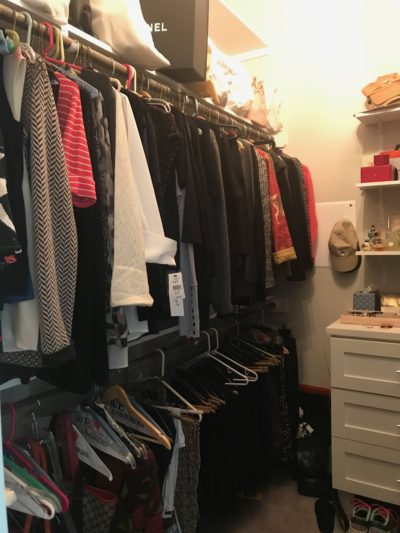 [/one_half_first][one_half_last]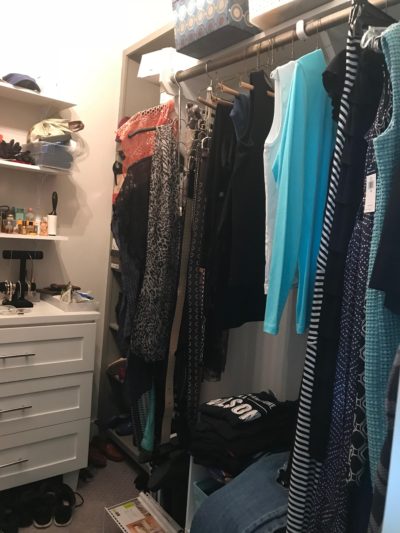 [/one_half_last]
You can tell a difference, can't you? Especially the right side of the closet.
Still way too many black slacks for one person – 8, not counting the black jeans (1) and cropped, wide-leg pants (2). In my defense, 2 of the 8 pair of slacks are now a tad too big. Another 2 pair of the 8 were not among the original 14 pair. No, I haven't broken my 'no shopping' year already – the 2 "new" pair of black slacks were in the attic in a box marked "130" and now fit (yea) whereas when this Capsule Wardrobe plan was launched, the clothes in the "130 "box did not fit.  Not sure I'll get down to the "120" box.  There are 3 "120" boxes and a TON of great clothes still in the attice. Not a lot of working from home, living in the country, doing gardening clothes, unfortunately. Also, with each pound that comes off my butt, it seems a few more sags and wrinkles show up on my neck and face. I believe I may have already reached the point of diminishing returns on this weight loss effort.
The Never-Ending Story
So, the Capsule Wardrobe challenge is ongoing, a continuing work in progress – but it's coming along. I've not minimized my wardrobe enough to call it a true Capsule Wardrobe – but I'm closer than I was in August. Furthermore, I've yet to address shoes and purses. Shoes will be next. I've no need for Louboutins while gardening. And even traveling to Paris – I'm not going to pack those beautiful, torturous shoes no matter how foxy my feet look in them. …but, get rid of them?  Mmmm, I don't know…  I think I'm going to channel Scarlett for this one, at least for now.  I'll think about downsizing my shoe collection (and purse collection) later.  After all, tomorrow is another day.
---
---