If you're headed to Paris for the first time, I hope you have 2 full weeks there. If not, you'll have to make some difficult choices. With 6 days in Paris, you can do anything you want; just not EVERYTHING you want.
Our Heels and Tevas 6-day trip to Paris itinerary is below. As with any trip you plan, it's important to remain flexible and accommodate adjustments to your schedule – as we did last year in Paris. The following itinerary is adventurous but doable. Look through the Paris itinerary we share, add and subtract, based on your interests and time available.
Important to our group was to see some things not all 1st-time Paris tourists think to see. That was accomplished.
Arrival Day:
If you're arriving in Paris on a flight from the US, you'll likely be landing at CDG sometime between 6 am and 10 am. If you're arriving closer to 6 am, the lines to pass through customs will typically be longer than if you're arriving after 9:00 am. Budget an hour to get through customs, claim your bag, and make it to the bus, metro, or cab line.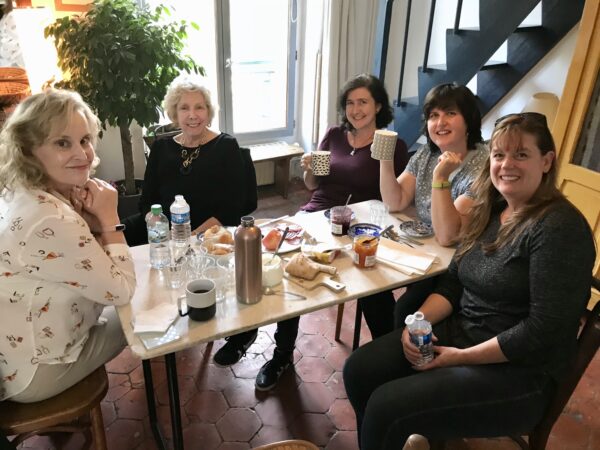 The first couple of days aren't going to be pretty unless you're immune to jetlag. But, since you only have 6-days, you'll want to power through. After you get to your hotel or apartment (I found our Paris apartment on VRBO) I imagine you'll want to get settled into your room and then freshen up. I suggest NOT napping unless you set the alarm for a short, 30-min catnap.
Out the door in Paris
A brief walk around our neighborhood for the week will be good to check out the local spots – grocery, cafès, Metro, ATMs, etc. to get your bearings. For our first walkabout, we took a bus over to the 5th arrondissement and make our way to the Pantheon. We didn't take time to go inside this afternoon, but took a stroll around the building, saw Owen Wilson's pick-up spot for time travel in the movie Midnight in Paris, back towards the Seine river, and the Île de la Cité (Notre Dame).
From start to finish we covered about 2.5 miles total – about an hour and a half's walking time. We stopped and checked out a few places along the way, including a café for a much-needed shot of espresso, for some – wine for others. We ended the walk on the right bank of the Seine ready for our private cruise on the Seine with Green River Cruises. It was one of the most spectacular things I've ever done. If you have a chance, it's a splurge you should take. You won't be sorry. Wine, cheese, shrimp… Paris, and a gorgeous sunset.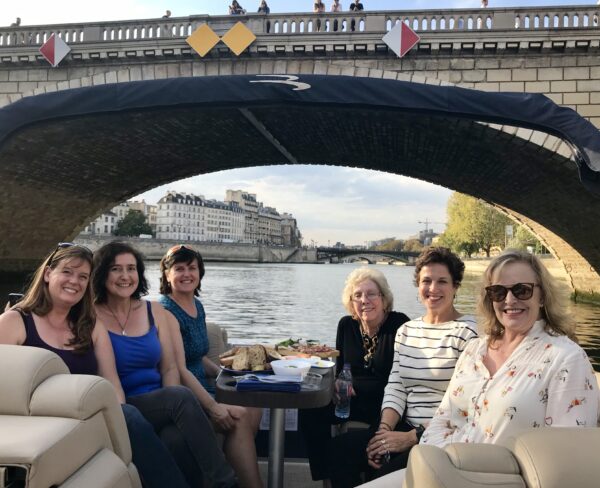 Things you can see on our first walk in Paris
74 Rue du Cardinal Lemoine (Hemingway's first home in the early 1920s),
Remnants of the city wall built by Philippe (or Philip II) Augustus (oldest city wall whose plan is actually known – built in the late 1100s)
The Panthéon
Église Saint-Étienne du Mont
The Sorbonne
Place Saint-Michel
Notre-Dame de Paris
The Seine River
Assignments for Day 1:
Watch Woody Allen's Midnight in Paris. We'll be walking past a couple of the locations on Sunday.
Read The Paris Wife by Paula McClain – In addition to being an easy read, it's a mini-history lesson about Paris, Hemingway's early life, and literary world in the early 1900s.
Paris – Day 2
Start Day 2 slowly. Make your way out about 10:00 and catch the metro to the stop closest to The Tuileries Gardens. The Tuileries Gardens separate the Louvre from the Place de la Concord so a good place to start your walk is at the Pyramid in front of the Louvre. (Don't plan on going into the Louvre on your first full day. It's overwhelming when you're well-rested! Save that for a Wednesday evening, when the museum is open late and the crowds aren't as huge.)
At the end of the gardens opposite the Louvre is the Musée de l'Orangerie. It's a small museum and will give you your first taste of classic French impressionist art, a series of large Water Lillies paintings given to the city of Paris by Monet himself in 1922.
From the Orangerie make your way to, and across, the Place de la Concorde, on to the Champs-Élysées. You'll be ready for un café (ou, du vin) by now, so find a café and stop for lunch.
Afternoon Views, The Arc & The Tower
After a rest and a bite, continue your walk up the Champs-Élysées, ending up at the Arc de Triomphe. The plan would be to go into the museum and up to the terrace of the Arc. The view from the Arc's terrace is equally as spectacular as any other in Paris. I promise.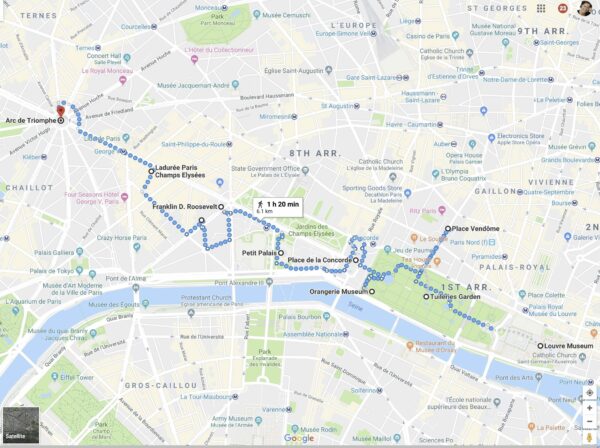 It'll be around 3:00 – 3:30 at this point. If you have any energy left, take the metro over to the Trocadéro Gardens. Here is where you'll get THE most spectacular view of the Eiffel Tower, looking at it from the right bank. For those of you who want to go up on the tower, you'll need a ticket. If you're in Paris at the height of the summer, make sure you purchase your ticket well in advance of your trip to Paris. The tickets are timed and, even if you're not visiting Paris in a high-tourist month, it's best to purchase tickets in advance. Remember, anything is possible and if, for some reason, your trip to the top of the tower doesn't work out – your flexibility will save the day. Oh, and if you've purchased the 3-5 or 7-day museum pass, it doesn't include the Eiffel Tower. And, if you want to have dinner at the top of the Tower, you just need dinner reservations and not a separate ticket.
After the Eiffel Tower, you marathon tourists can continue on and explore the 7th Arrondissement.
The walking distance for the day will be about 3.5 to 4.5 miles.
Day 3: Tuesday, 16 October.
OMG I am so excited for Day 3!! We're going to be picked up at our apartment, likely around 8:30 or 9:00am, and driven to Giverny, where we'll have a private, guided tour of Monet's home and gardens. Having seen the beautiful Water Lillies paintings the day before, we'll have exact perspective Monet had for so many of his masterpieces. How wonderful will that be!?
We'll stop for lunch at a local café before we hit the road on to Versailles. Again, our guide will walk us through the centuries and history of the beautiful Gardens and Palace.
Did you know the gardener who designed the spectacular Versailles grounds for Louis XIV is the same architect behind the Tuileries Gardens we will have walked through the day before? André Le Nôtre. …And just wait until you see the Hall of Mirrors, also created by Louis XIV in 1678. Imagine; it's still used today for state functions.
We'll be chauffeured back to our apartment, arriving around 5:00-6:00 pm. Evening 3 is unscheduled, but again – I'll have suggestions for those ready to continue on!
Now you have agendas for Days 1, 2 and 3. Days 4, 5 and 6 are almost firmed up, as well. Stay tuned.

To the left is a sneak peak for the afternoon of Day 4. Anyone know where this is?
Day 4 morning will be unscheduled and we'll connect up for a late lunch before another afternoon of exploration. …but where might that be?? Tell me if you know.
Assignment 2:
Day 4: Wednesday, 17 October.
We'll have a late start on Wednesday. At the time I'm writing this, I'm still waiting for a confirmation for a dinner on Tuesday evening after we return from Versailles. If that dinner is scheduled, it will be a late night and will make for a FULL Day 3. Either way, you'll have the morning free to lounge or explore on your own if you'd like.
Around 1:30 or so, we'll head out for an afternoon of wandering the hills of Montmartre, first stop – The Moulin Rouge. Montmartre was the creative and artistic epicenter in 1900, home to Bohemian poets, writers and artists. Until the mid 1800's Montmartre was actually its own, separate town and you can still see and feel the uniqueness today.
One of the unusual things we'll see is the great statue/sculpture, Le Passe-Muraille (the Passer-Through-Walls). Le Passe-Muraille is the title of a 1940's story by Marcel Aymé about a man named Dutilleul who discovers that he can (you guessed it) walk through walls. The statue is situated in a place named after Marcel Aymé.
Montmartre sites we'll see include:
Moulin de la Galette – famously painted by Picasso, Renoir, Toulouse-Lautrec , Pissarro, Van Gogh, and others.
Montmartre Vineyards (yes, a vineyard – in Paris – that produces the worst expensive wine in the world.)
Sacré-Cœur Basilica
Bateau-Lavoir – Originally a piano factory; made up of cobbled together studios, it was home to many artists and the birth of Modern Art in the beginning of the 20th century.
Lapin Agile – A favorite cabaret of struggling artists and writers, including Picasso, Modigliani, Apollinaire and Utrillo; in other words, the artists of Bateau-Lavoir.
AND! Le Grenier à Pain- a two-time winner of "The Best Baguette in Paris" competition. OMG!
Around 4:00 we'll head back to the 1st arrondissement for a visit to the Louvre. The crowds at the Louvre can be unimaginable during the days. Wednesdays and Fridays the museum is open until 9:45pm, versus the normal 6:00pm, so there will be no need to rush.
We have dinner plans at 7:00 near the Notre Dame.
My 10 "musts" at the Louvre: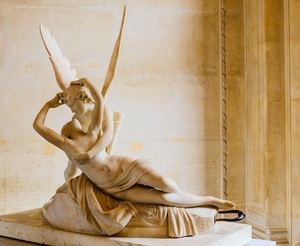 Mona Lisa – da Vinci
Winged Victory – 190 BC, Ancient Greece
Dying Slave – Michelangelo
Venus de Milo – 100 BC, Cyclades, Greece
Liberty Leading the People – Delacroix
Venus with Three Graces – Botticelli
Psyche Revived by Cupid's Kiss – my favorite, ever. Antonio Canova (picture at right)
Raft of Medusa – Theodore Gericault, defined French Romanticism ("romanticism" is a misnomer, here.)
Coronation of Napoleon – David
Grande Odalisque – Ingres
If you're a fan of early civilization art and artifacts, please let me know. At the Louvre you can see works and objects dated from as far back as 7000 BC (Statue of Aïn Ghaza). Waaaay too much to cover in one trip, but if there's something you'd like to see other than the types of works noted above, I want to make sure you get that opportunity.
It'll be close to 9:00 when we finish our dinner party. Some of us will want to grab a bite or a nightcap before heading home – others will want to head directly back – and still others may want to dance and party. It is Paris, after all!
The walking distance for the afternoon will be a short 2.5 – 3 miles (not counting walking around the Louvre). (Get ready for Thursday)
Day 5: Thursday, 18 October.
Thursday morning is another open morning. There are so m any7 options! Perhaps sleeping in and watching the world go by from a local café. Or, how about: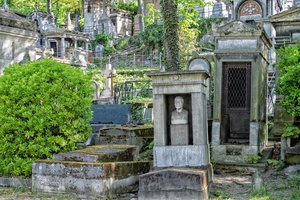 A shopping tour of les depôt-vents? (I'll have a map).
A visit to the famous Père Lachaise Cemetery? (Among the many, MANY famous people buried here are Oscar Wilde, Chopin, Proust, Gertrude Stein and Jim Morrison. It is really a beautiful "community". see right)
The Pantheon? (Built in the 1700's originally as a church, now a mausoleum containing the remains of distinguished French citizens, including Voltaire, Émile Zola, Marie Curie, Louis Braille, Victor Hugo).
Whatever you're up for more, go for it.
We'll be heading out again about 1:00, this time back to the Rive Gauche. A LOT of walking today, starting in the 5th and ending the day in the 7th. Be sure to bring some good walking shoes. (and blister care)
Some of the things we'll see along the way:
My favorite hair salon (I know this isn't terribly exciting – But, really it is. Christophe-Nicolas Biot. I hope to have an appointment before seeing you all and — look oh, so Parisian!)


Pont Alexander III Bridge

Saint-Germain Chapel (rue de Seine, rue de Bucci, rue, rue, rue – shop and cafe after shop and cafe. Love it!)
Les Deux Magots, Café de Flore, Brasserie Lipp (All 3 were popular with artists, writers of the late 1800s / early 1900s – fabulous décor, big-time tourist joints today. Still, lovely to see the history)
Saint-Sulpice Chapel – (referenced in The Da Vinci Code)
Luxembourg Gardens (Fontaine Médicis – one of my favorite spots in all of Paris – see right)
Rodin Museum – Small, but a hidden gem.
Alexandre III Bridge – THE most beautiful bridge ever.
Musee d'Orsay – Another evening of art
It will be another 9:45pm night when we finish dinner. Another opportunity to continue the fun or call it a day.
The walking distance for the afternoon will be 6 to 6.5 miles.
Day 6: Friday, 19 October.
Friday is our last full day in Paris.
Whaaaaaaaaaat???
Sad. But, last does NOT mean least – or boring – or easy. We're making the most of it – starting out with an optional treat – A Classic French Baguette & Croissant Baking Class. Won't your friends be jealous??! We'll need to be at the Boulangerie Le Petit Mitron, in the 14th, by 10:30am.
After, we'll head back to the Right Bank starting with a light lunch (if we're hungry) at Le Train Bleu. If we're not hungry we'll go in for a cafè and be transported back to 1900 for a few minutes. Created for the 1900's World Fair (as was la Tour Eiffel) it is simply fabulous, and you must see it.
Re-entering 2018, we'll head over to the Marais district by way of l'Îsl St. Louis.
Along the way, we'll see:
Promenade Plantée – The inspiration for NYC's Highline that opened in 2014.
Berthillon – World-famous ice cream. Yes, we'll stop here, so save room.
Place de Vosges
Brasserie Bofinger – Bofinger's opened in 1864 and it is BEAUTIFUL. Another step-back-in-time to the Belle Époque. We'll definitely want o stop here for a look. (et peut-être, du vin ou café.)
Marché d'Aligre, or next door Marché Beauvau, will be our last stop. Here we can pick up something for our evening meal – sadly packing and getting ready for Saturday's journey onward. For those of you needing less time (and sleep) are free to continue the party as long as you're able.
The walking distance for the day will be about 4.75 – 5 miles.
Day 7: Saturday, 20 October.
That's it. Most of you will have a flight back Saturday morning. <sniff, sniff> I'll have the café going and the croissants et beurre ready early. We'll have talked through the timing and modes of transportation so all that you'll have to do is pack up all the memories and keep them close once you return home.
And start planning for new memories. Provence in 2019, anyone?? Our home base will be in the Vendôme area, where I'll (hopefully!) be able to host you as a (part-time) local! Stay tuned…