Beautiful Holiday Table – #IFIWTL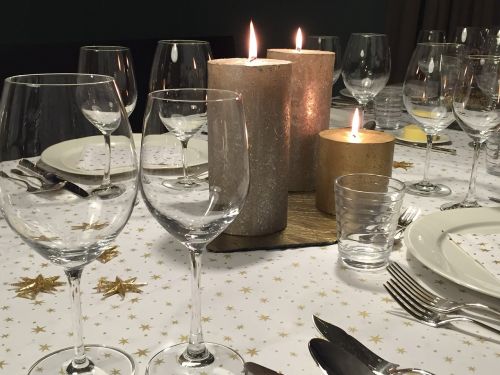 How do you decorate for the holidays? Do you put up a Christmas tree, hang a wreath on the door, perhaps put a few Santa chachkies and candles around? That's what I do. With no kids at home, there's not a lot of holiday fanfare. Besides, decorations can really get expensive, especially tableware. Still, I love browsing and dreaming of all the beautiful holiday table settings. If I won the Lottery, I'd surely invest in beautiful holiday table decor.
It's easy to get lost online looking for inspiration. There are so many blogs and shopping sites, it's overwhelming. But I ran across the blog Sugar and Charm and saw a gorgeous table set for the holidays. Here's the beautiful table design that caught my eye.
You may think it's a bit casual for the formal holiday dinner, so perhaps this table décor is more suited for a Christmas brunch, as it's presented on the Sugar and Charm website. Either way, I think it is beautiful. The design is clean, simple and elegant – yet festive.
The gold and white color scheme is a perfect frame for the greenery (not to mention the perfect Kir Royales). The gold flatware, the plain, white dishes topped with the gold chargers, and the gorgeously simple gold and white vases come together so beautifully.
My Beautiful Lottery Table Design
If I won the lottery, here is how I'd decorate my beautiful holiday table.
Starting with the vases, you need to keep them simple, but striking. Here are some I just love from – where else – Neiman Marcus. Simple, modern, elegant. They're more structural than the vases used in the Sugar and Charm design, but that suits me better. I'd also have three groupings anchored with one of the three tall golden-ring vases. At each end would be an airy gold-branched candle holder. Then, on either side of the center vase, I'd use short, simple bud vases. The would have varying heights from high to low to high, the round bud vases would contrast nicely with the tall gold-ring vases, and the branch design of the candle holder together with the greenery in the vases would soften the overall structural design. I found all of these at – where else – Neiman Marcus.
With a table like this, you can't use silver flatware. That would blow the whole look. And without the gold salad plates… well, it's just a plate. Here's what I found for the flatware. Gorgeous, matte finish, gold flatware from Year & Day. Even winning the lottery, I don't think I could afford (or want) REAL gold service and I think this set is really beautiful. These gold salad plates, from Les Ateliers Courbet, are perfect.
$3,062– Beautiful Lottery Table Cost
$3,062, not counting the rest of the setting – the white plates, the napkins, the serving items, etc.
Expensive, yes, but wouldn't this be a BEAUTIFUL table? Could I design a holiday table for less? Yes, but hell… I won the lottery!
Not really. I didn't win the Lottery, so here's the affordable table…
My Affordable Holiday Table Design
The three grouping design is perfect, so the overall theme and structure will be the same. Here are my more affordable – yet, still beautiful.
This table design won't vary in height like the "Lottery Table", but I can use different lengths of greenery in the bud vases to simulate varying heights.
The tall gold and white vases, the bud vases, and simple gold votive tealights, all available from Amazon.
Affordable gold plates aren't easy to find in a smaller salad/dessert size. Larger gold chargers were everywhere, but I like the look of the large white dinner plate with the smaller gold on top. It keeps the table brighter and the gold and green from the vases really POP. There were a lot of options for plastic plates in gold, but unless it's a really, REALLY simple brunch, I'll opt for the ceramic. You can buy the salad size plates in sets of 4 at Z Gallery.
If you can believe it, I found a set of matte, gold flatware on Amazon. It isn't as straight and structural as the flatware from Year & Day, but I think they're still quite nice.
$335- Affordable Holiday Table Cost
$335 – Again, not including the rest of the tableware. All the following are from Amazon.
I could only find gold plates in plastic on Amazon. ZGallery is a great place for blingy decor, including gold dessert plates.
So, there you have it! Two gorgeous holiday tables. One may be a bit more elegant, but with a difference in cost of almost $2700, I'm going to be pretty happy with Option #2. Unless, of course, I win the lottery.
*We are affiliates for Amazon, but not for any of the other merchants or products noted here. Please know we only promote things we personally use or want to use. For more information, see our section on Disclaimers and Other Stuff – or give us a call.
---
---