Curse of the Aging Eyebrows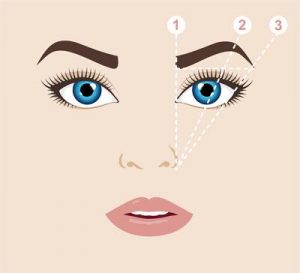 …or – I tuned 60 and what the hell happened to my eyebrows!?!
Let's talk eyebrows.
Barb here:
I'm a natural blond with red highlights and wispy eyebrows and I have discovered that better eyebrows bring out my beautiful blue eyes. So guess what? I also learned that post-menopausal women tend to grow more eyebrows. Yippee! Not so much. Unfortunately, said eyebrows tend to come in two options only:
​1. Uber–wispy, pale uni-brow
2. Uber-wiry long singletons
Neither of these are useful or attractive.



Barb's brows – au natural.                                      Barb's brows post CoverGirl assistance
Did you know that when you enter "eyebrows over 60" on Google, you will forever have eyebrow tips, tricks, and options popping up on your screen AS IF one needs to be reminded she's over-60 with thinning brows. However, it did lead me to this article about eyebrows, of which my favorite line is "When you try to make your eyebrows look exactly the same, you can over-pluck them. Your eyebrows are supposed to be sisters, not twins!"
Ladies, don't stress to get your eyebrows identical. "Your eyebrows are supposed to be sisters, not twins!"
Tweet This!
Speaking of sisters, there's my blog-sister Lynnelle, with her lovely dark hair had dark eyebrows to match in a perfect sister-like arch.
Lynnelle Here:
Ok, Barb – if we're putting it all out here for the good of the tribe, here are my perfectly arched dark eyebrows au natural. (I think we all agree that Barb gets a pass on showing the chin mole)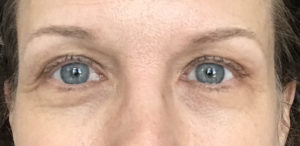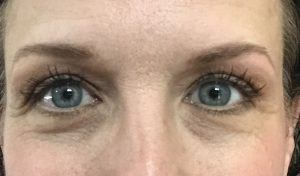 While never dark and thick, my eyebrows have been consistently thinning as the years tick by; sort of like the sand washing away as the tide flows out. About 10 years ago I got the courage to have my brows tattooed. There's at least ten stories related to THAT experience, but needless-to-say I didn't just wake up that day and decide to get my face permanently inked. It was a looooong process. And I was in Paris. And the boyfriend of the tattoo aesthetician was a friend. And … but I digress…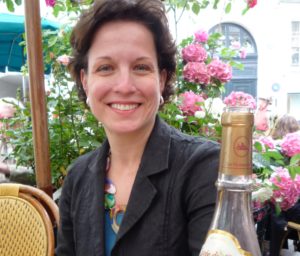 Pre-Tattoo eyebrows.  With wine.
Even though a proper eyebrow tattoo procedure should include 2 inking sessions, I was only able to have one, so the coloring is not nearly as deep as it should have been. And, after a decade even that color has faded – although looking at the picture, my brows don't look as pale as they do to looking back from the mirror.
MY issue is that not only are my brows thinning, in general, but, I've banged my head so many times in my life that I have no brows on the ends. You say, "perfect arch". The downward slope of that arch is all tattoo. Or, pencil. I've spent a number of years trying to perfect the perfect "flick" of the brow pencil to not look like I used a Sharpie to color in my brow. We've all seen the poor woman whose eyebrows look as thought she's colored here eyebrows in with a sharpie, following a dot-to-dot pattern. I'll do a video and post my eyebrow "flick" technique here (updated: video posted and linked here and on YouTube) if there's any interest. Or better yet—I think we should ask our tribe to post their own videos showing their brow make-up and maintenance techniques. Or at least comment here with your secrets. We can have two categories: Wispy-Wiry and Disappearing. In the meantime, I'll continue practicing the "flick".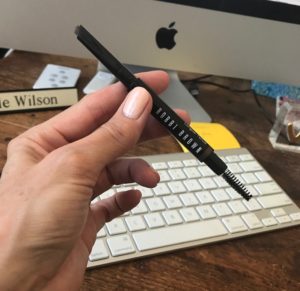 For those of you who care, my favorite (today) brow pencil is the Bobbi Brown eye pencil in the luscious color called "Rich Brown". They offer, of course, lighter and darker shades. I love the "angled crayon"—I'm not sure it helps make the coloring less "Sharpie-esque" but it feels like it should and seems easier to use. I also use Bobbi Brown's "Brow-gel" to cover the grey hairs that don't succumb to the pencil. Having to have my brows died every two – three weeks just isn't practical (or affordable).
What are your favorites? I'm constantly exploring options.
* FYI, The links in this post can be affiliate links, which means that if you click on one of them and actually buy something, Heals and Tevas will get a % commission. You can see our Disclosure and legal stuff for more details or let us know if you have any questions. 
---
---