Mirror Mirror on the Hotel Bathroom Wall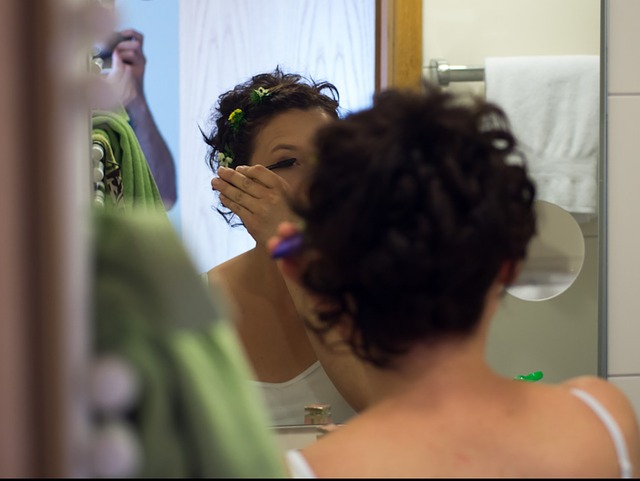 Barb here.
Having recently flown to Dallas and stayed in a hotel in order to help Lynnelle celebrate turning 60, I was reminded once again about my biggest hotel pet peeve: Mirrors.
First, the magnified make-up mirror was not well lit. As a woman of 60, I need both magnification and light if I want my eyebrows to be even. Second, and more of an issue, the placement of the full length mirror is always on the inside of the bathroom door.
Why is that?
More…
If there are two people in a room getting ready for an event, one is getting dressed while the other is in the bathroom doing –whatever. The getting dressed person needs the full length mirror while the person in the bathroom does not. Ever.
BIGGEST Pet Peeve:
…the full length mirror is facing the toilet.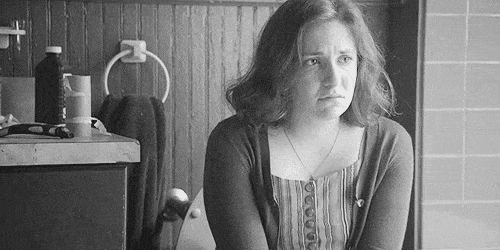 Not what you want to watch
"No one ever needs to watch themselves take a s#*t!" I told Lynnelle, after having done just that. She laughed and replied,
"At least you pooped today."
Oh, God. I can't believe she said that… but again; I guess I can. Sixty is like that. (Yeah, it is.)
But we can still travel, have fun, and look great—providing we have a magnifying mirror and good lighting and I don't why the hotel designers make it so difficult. According to a 2016 article in the Boston Globe Weekender,
"Nearly two-thirds of travelers today are women, reports the George Washington University School of Business. Women also comprise 54 percent of coveted affluent travelers with annual incomes of $250,000 or more, up from 42 percent in 2010, according to the travel and hospitality marketing firm MMGY Global."
Hello! We travel and we have needs.
Lynnelle here.
I can't say that most full-length mirrors in hotel rooms face the toilet. Thank God. But, that's the least of my gripes about hotel bathrooms—although watching yourself, or anyone for that matter, take a sh*t is not anything I want to think about, but now am.
Thanks, Barb.
My biggest hotel room pet peeve has to be the bathroom lighting – or the lack thereof. How can any woman, 60 or 20, put on makeup in a dimly lit bathroom? I'm winding up a job for which I did a ton traveling. The bathrooms that came with my employer's "approved" hotels did not normally come with makeup worthy lighting. My grand prize winner for horrible bathroom lighting is the Hyatt Hotel in downtown Houston, Texas—which is a shame given it is right around the corner from my soon-to-be-former employer. But while the Houston Hyatt is the worst, most were pretty bad.
Bad Hotel Bathroom Lighting
This picture is not of the Hyatt, but of the Hilton Garden Inn in nearby Woodlands. I've stayed there, as well, and this picture is very representative of the bathroom lighting I've found in most 'approved' hotels. Seriously? In person it's not nearly as "bright" as this picture appears and – the yellow tint gives you a nice jaundice glow… Just 'great' for makeup lighting, especially us mature women trying to pinked up our less-than-rosey cheeks.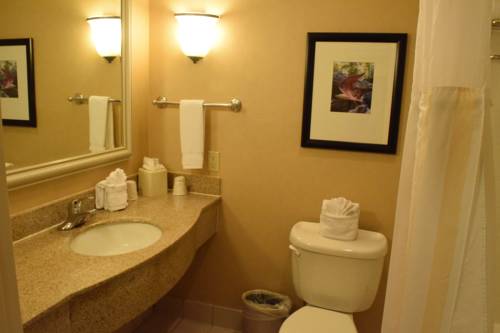 Hilton Garden Inn – The Woodlands, TX Courtesy of Priceline.com
Barb, you're worried about the magnifying mirror lighting. In a bathroom like this, I'm not sure any lighted mirror would help us color in the blank spots of our brows in this bathroom lighting. (Thank you Priceline for the photo example of bad bathroom lighting.)
My eyebrow-saving (and other makeup) solution to bad hotel bathroom lighting?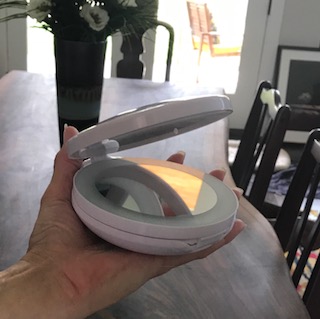 Lighted travel mirror
​The miracle apparatus
I love this!
The small, lighted travel mirror fits in one hand, doesn't distort and has a 10x magnification mirror in addition to the normal mirror. The light, while not brilliantly blinding, is bright enough – and the magnification high enough to see the eyebrow's bald spots (an all the other things you'd like not to see). It folds up and is very easy to throw in the makeup kit and doesn't cost a fortune. Mine was under $20 on Amazon.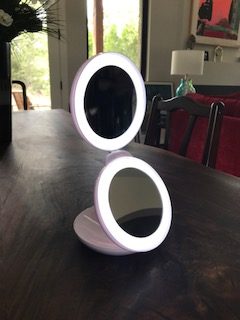 Lighted travel mirror – both sides light up together or independently. Very cool.
There are other styles of mirrors—some larger, some brighter, and many more expensive. With this one, I won't feel too awful if I leave it behind in a room—which I'm sure will happen at some point.
You know, even though I'm not traveling much for work these days, it still pisses me off that big hotel chains, claiming to cater to women travelers — are clueless and clearly didn't design – at least the bathrooms – their facilities with women travelers in mind. We don't need frills and dainties. All we need is a safe, clean place with decent lighting. (Barb says don't forget a magnifying mirror – and no mirror facing the toilet!) Oh, and room service.
More and more, these 'business-approved' hotels are being remodeled—but, still, not many seem to be remodeling with traveling women in mind. I bet most of the designers themselves were men. I'd be shocked if they even asked women travelers what they thought. Idiots. As more and more hotels embark on renovations, the smart ones will give importance to what women travelers need.
That. Is. All.
* FYI, The travel mirror links are affiliate links, which means that if you click on one of them and actually buy something, Heals and Tevas will get a % commission. You can see our Disclosure and legal stuff for more details or let us know if you have any questions.
---
---