Placing the Tag Blame Where it Belongs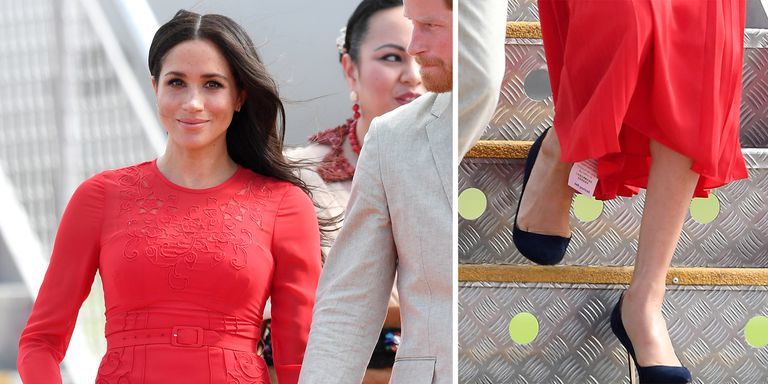 By now even we who aren't obsessing about the Young Royals have seen the infamous tag and fashion faux pas.
Furor Over a Dangling Tag
Yep, the newest Duchess stepped off a plane in Tonga with the store tag dangling from her dress and Social Media was all over it.
Most were understanding and "forgiving" of her, saying she must be so tired as a pregnant bride in her first official royal tour. Believe me, I'm not going to pile any blame on her either. Not only did Harry choose a commoner, but he also chose a smart, successful woman from our side of the pond. Plus, he chose a woman with public baggage. And be honest, ladies. Didn't those of us over 60 secretly wonder what would happen if we'd met Prince Charles before he wed Diana? (O.K. Nothing. Nothing would have happened. Plus back then we didn't know he had given his heart to Camilla. So fine.)
Back to the Tag fashion faux pas and the Blame. There are a whole bunch of reasons to get married, or even to move in with your Sweetie: love, lust, friendship, companionship, zipping up the back of your dress, AND PERFORMING A FINAL CLOTHING CHECK BEFORE AN EVENT.
It's Not Your Fault, Meghan
This is a sore spot for me as EW is actually great about letting me know if an outfit is flattering or not and horrible about checking the little things. When we first moved aboard the boat in Maine, I cannot tell you how often I went to work with my slip showing or some other fashion faux pas. It got so bad, that I badgered the owners of the marina to install a full-length mirror in the common area. (Dora St. Martin, a Friend for Life and fellow liveaboard, called it the "Barbara Mirror" and got one installed in her new marina in Boston.)
An Open Message to Prince Harry
Seriously, Prince Harry, when you embarked on this public marriage you agreed to help her negotiate steps and grass in her high heels, stand up for her against snarky tabloids, welcome her mom to England, and check her for slips, tags, bra straps, and other fashion faux pas.  Harry, do your dang job.
And yes, I have not yet come to believe that bra straps should show and that there are rules.  (I know this makes me old. Tough.)
An Open Message to the Duchess
Meghan, you looked great in that dress. Go take a nap—and stop scooching in heels while pregnant. That's just scary on a whole lot of levels.
---
---