The Azores versus The City of Light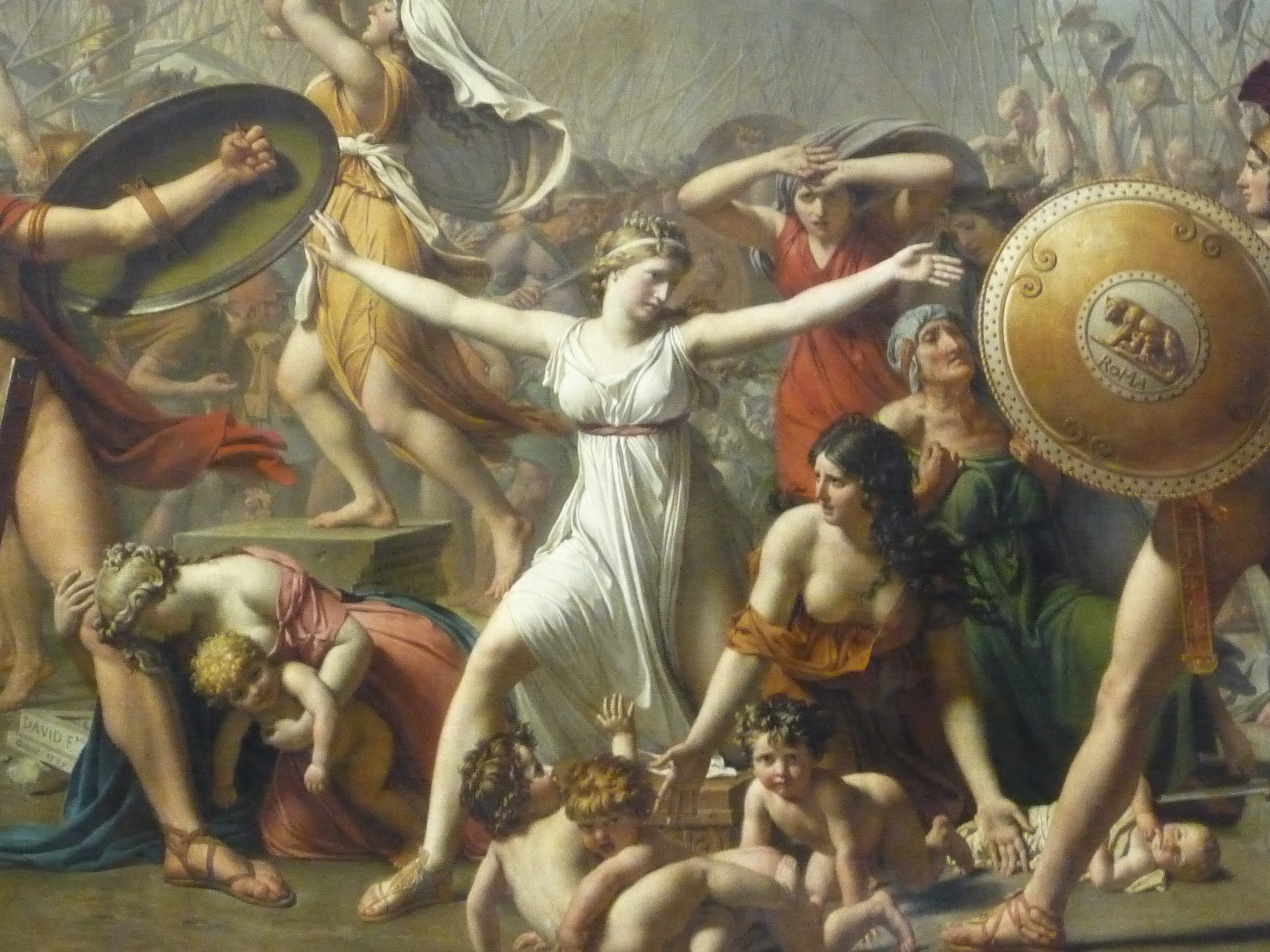 Five reasons why Barb is the Azores. Five reasons why Lynnelle is Paris.  The battle of The Azores versus The City of Light.  Let the games begin.
[one_half_first]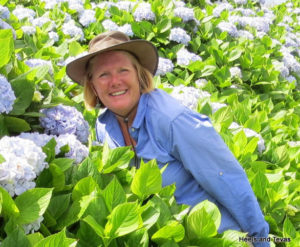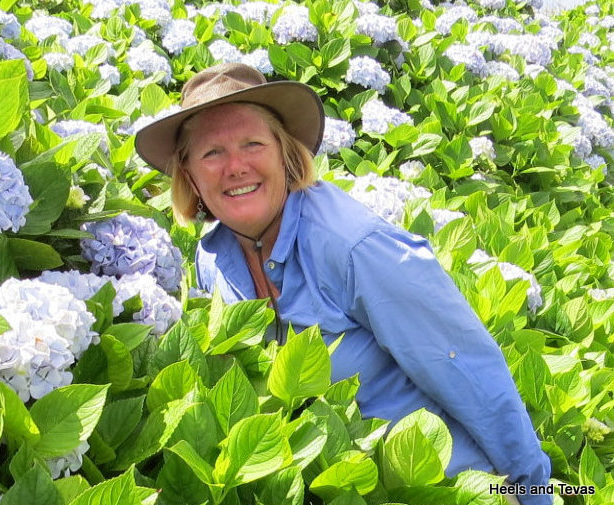 [/one_half_first][one_half_last]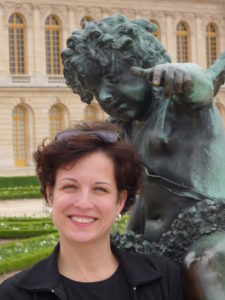 [/one_half_last]
Barb here:

​
Writing about travel is a bit problematic for me as I need more help than I can give (hotels, flights, VRBO vs Air B&B)—unless we're talking about sailing. Sure, I've flown and stayed in hotels (see the rant about bathroom mirrors) but most of our significant travel has been via sailboat. We only fly home and back, don't rent any housing on shore, and eat out less frequently than hotel travelers. 
But I can tell you a whole heck of a lot about some of the places we've visited and the travel category I call "Adventure Travel for those Over 60".  So far, my favorite destination of all time is the Azores—9 tiny islands 1000 miles west of Europe—a part of Portugal sort of like the USVI is part of the United States. In 2014 we visited 7 of the 9 islands. (Clearly we have to go back.)
More…
Five Reasons I Love the Azores
1. They are remote, but accessible.
​You can actually get there fairly easily by air. They were never inhabited until discovered by Portuguese Sailors. Only one of the nine has a large cruise ship port (San Miguel—also the only one with a Burger King), there are no giant resorts, and when you rent a car you often don't have the roadway to get it into 5th gear. This means that those who visit are not your normal tourist, and that makes all the difference.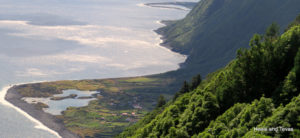 2. The Azoreans are lovely people.
Mostly of Portuguese and Flemish descent, the Azores are warm, friendly, and very proud of their islands. (Also none goes grey. There were more 80-year-olds with black hair than I'd ever seen. Also a lot of beauty parlors. This is not a coincidence.) English is spoken by enough folks to help you with what you need, but learning a few words of Portuguese will reap huge rewards—especially if you use the dialect of Portugal and not of Brazil. Never use Spanish!
3. The islands are some of the most beautiful places we've visited.
Tall green mountains, sharp cliffs, incredible fajas (tiny little landfalls upon which they built towns just feet above the sea), pastures, rivers of hydrangeas, colorful villages, and old cities on the UNESCO World Heritage List.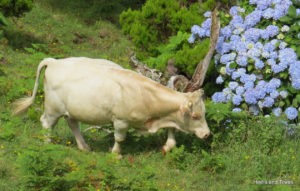 4. They are one of the best locations for adventure travelers

.
Sailing, diving, whale-watching, hiking, spelunking, climbing, geological tours, horse-back rides, vineyards and other agriculture—if you wo
uld rather do and learn than sit on a beach drinking cocktails (not that there is anything wrong with that), then the Azores offer all that and more. Plus a few beaches, more natural pools formed by lava flows, nightclubs, sidewalk cafes, and more.  Every island tourist office provides full-color maps of the hikes on that island, complete with elevations, degree of difficulty and photos.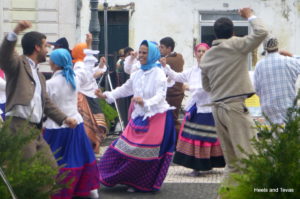 5. They offer rich cultural opportunities.
We attended the 35th year of an international folk dance festival on the island of Terceira.  We listened to live classical, folk, and choral concerts in San Miguel. We just missed the annual Blues Festival in Santa Maria. Every island offers free entertainment throughout the summer.
We spent five hours in the art gallery in Terceira; we toured numerous historic and geological sites on every island, and even created our own photographic collection of street art. 
Bonus: Ties to US and Canada. The Portuguese have immigrated to America for hundreds of years. Moreover, after a horrendous earthquake in the 1960's, the then dictator of Portugal allowed Azoreans to emigrate and the US and Canada welcomed thousands of them. 
These are the Portuguese fishermen of New England the milk farmers of California, and more. That is largely why so many on the islands speak English: they have cousins, aunts and uncles, grandparents, and siblings who live on this side of the Atlantic. 
Lynnelle here:
Writing about travel now is difficult for me, as it is for Barb, but for different reasons. First, until a month ago, 99% of my travel was for business and consisted of DAL-HOU; DAL-AUS; DAL-SAT; DAL-OKC—you get the idea. Who wants to read about THOSE trips? Not me. Here are just a few of the exciting FB posts from my prior world of travel. Exciting.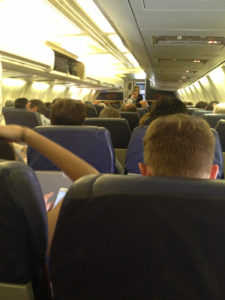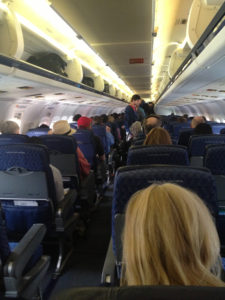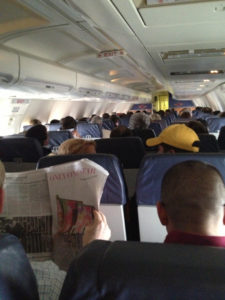 Now that I'm building a blogging empire, I hope to have more flexibility in where I do that blogging and therefore, where my travels can take me. THEN I'll have some good travel stories to write about. Soon, I hope.
​Until then, and likely even long after that – Paris is and will likely always be my favorite place on earth. I AM Paris. Why? Why does anyone love a specific place? Whether I list 5 things or 500 things about Paris, the real reason I love Paris is the way I feel when I'm there; the way I feel when I think about being there. 
When I'm in Paris I feel classier, smarter, prettier, more cultured. When I'm in Paris I turn into Audrey Hepburn. At least, I feel like I do. 
Five Reasons I Love Paris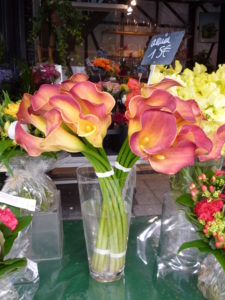 1. The importance of quality and beauty in the French culure
(And I'm not talking physical beauty. We'll have makeup, hair and beauty discussions later.) Everyday life is lived with quality and beauty being an important component.
A small vase of fresh cut flowers on the dressing table – every day – just because;
The street cleaners and sanitation workers diligently keeping the city of light clean, their bright green uniforms and equipment as clean at the end of the shift as at the beginning. Not sure how they do it, but it's true.
The hundreds of florists – not big fancy corporate florists, the small Mom-Pop, corner-store florists that flourish in the city. The designs, the staging, the arrangements could easily pass as Hollywood sets and individual works of art rather than a simple florist and bouquets. Really. Yes.
These are just a few examples. There are many more. The way of life in France is not about being the fastest, the cheapest, nor the most expensive. Life in France is about the best; living your best and most beautiful life.
2. French Cuisine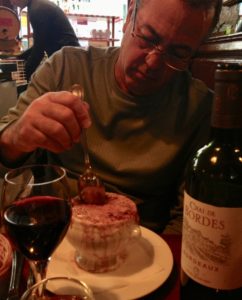 Trying to describe somehing like this is like trying to describe the color blue to someone who is color blind. Second qualifier: Paris, like any other place, has bad restaurants—I just haven't been to one. Third & final qualifier: The American way has certainly invaded Paris, just as it has in most major metropolitan/business areas where fast food caters to time-starved workers trying to grab a bite between meetings. But in Paris, and the whole of France, it's not the norm.
In France, the cuisine —dining—is a valued tradition, a mentality much more than it is food. It doesn't have to be fancy, expensive, nor served by a rude waiter in a tux. Dishes are prepared with fresh, quality ingredients, experience and appreciation for time-honored traditions (think steak au poivre, Crepes Suzette or cassoulet). 
Furthermore, when the French plan a meal the ingredients and technique are only the first 2 considerations as they think the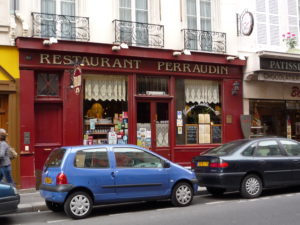 style and the experience of sitting down with good friends to enjoy each course are key parts of planning and preparing the meal.
One of my favorite meals of all time (costing under 60 Euro for 2, including copious amounts of wine & Calvados) was at Restaurant Perraudin in the 5th arr, not far from the Pantheon. No, it's not a Michelin anything. No, if you're talking about "the food" only, you might call it 'good'. But as an evening and as a meal, it was memorable.
​
3. Parisian Cafes. Cafe Life
It's a 'thing'. It's a culture; or, at least it was. The Paris cafe is not a coffee shop, as we know here in America, but they of course serve coffee. It's not a restaurant, either, although the Parisian cafes do have full kitchens. Much like the cuisine, the cafe and French cafe life if a culture, although one that is slowly disappearing. 
The reasons I love the cafe life in Paris is first, the history and second, the ability to sit, think, watch, just BE in Paris. I think BEING in Paris is my favorite thing to do.
The Parisian Cafes that one thinks of when you think of Paris in the Golden Era, are primarily tourist destinations, now, and owned by big corporations. Still cool places to visit, if not for the social experience, for the history.  
Lynnelle's Cafe Life in Paris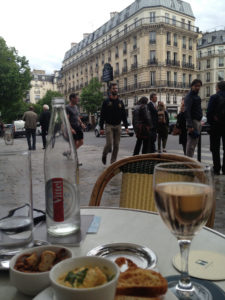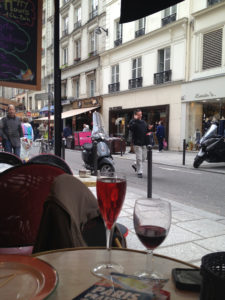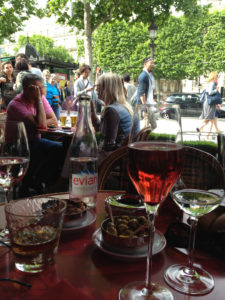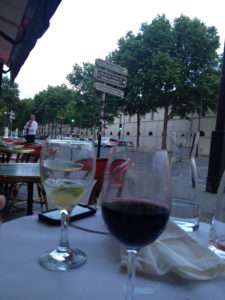 In the less trendy, less touristy areas you'll still find the typical Parisian cafes that serve as a neighborhood hub, social networking spot, gathering place for artists and writers—a place where folks sit for a couple of hours (or more) watching life go by (or drawing, painting, and writing about that life going by).
4. Art is everywhere in Paris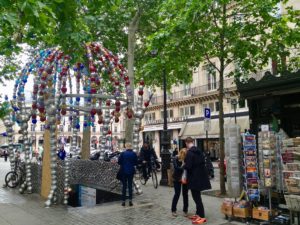 Where do you start? Yes, the Louvre. Yes, the Muse d'Orsay. Yes, Yes, Yes. That all goes without saying. But the city itself, everywhere you look there is art. The Metro entrances, the statue in the park (the park itself for that matter), the streets and buildings themselves. You are immersed in an art history lesson when you are just walking down the street. And it's beautiful art.
5. The Medici Fountain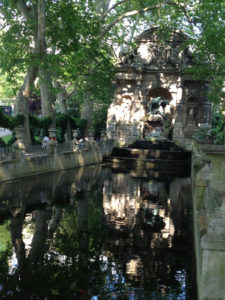 ​For an American in love with Paris, experiencing #s 1-4 above non-stop for a solid month can be a major overload on your senses, your emotions. Seriously. I thought I would implode after the first week and a half of a 1-month stay in Paris. The constant state of hyper-awareness about crashed me. I found the Medici Fountain on a walk through Luxembourg Gardens and fell in love. It's in the North-East corner of the Garden du Luxembourg (6th arr). The whole of Luxembourg Garden is large and much of the area is open. The Medici Fountain area is heavily treed, shaded and tucked off to the side. Created by Catherine de Medici to bring a little of her Italian home to her "back yard" in Paris, there is a beautiful reflecting pool in front of statues and surrounded by a trellised fence and tons of vegetation. On a rainy day it is magical.
I can go on and on and on… This post is already waaaay longer than we'd intended so I'll stop here. If you want to know more or have questions, just comment here or shoot me a note! You can believe there will be more posts about France and about Paris from me. There's just so much more to say!
---
---