We Report on Lynnelle's Visit to St. Augustine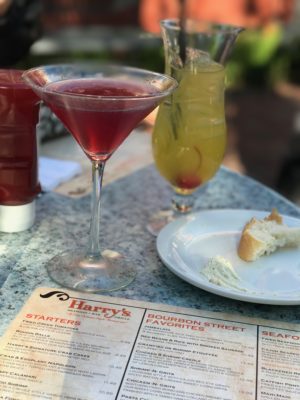 For some reason, I'm feeling like a reporter of the social pages in a Southern newspaper in the mid 20th Century. So, here we report on Lynnelle's Visit to St. Augustine—the goal of her recent road trip.
"Barbara Hart was delighted to have visitors this week when her dear friend Lynnelle arrived from Elgin, Texas—a small town near Austin. Wearing a stylish sweater poncho in black and grey, Lynnelle has thoroughly enjoyed her visit, combining pleasure with meetings for their new business, Heels and Tevas.
Wearing a fuzzy brown L.L. Bean barn coat (it's unusually cold in St Augustine this year), Barbara and her husband, EW, have shown Lynnelle and her beau, Kurt, all the better hot spots in town, most specifically Mardi Gras, Anne O'Malley's and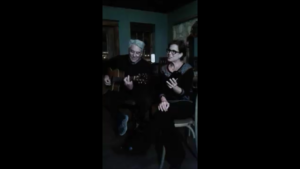 the back room at Chatsworth.
The daily (or nightly) ritual has been attending Open Mic events. Lynnelle and EW have brought down the house down with their rendition of "Angel from Montgomery".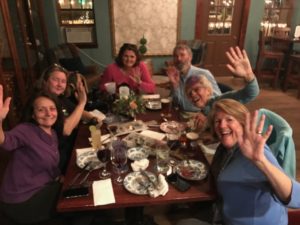 In addition to dining out, walking The Littlest Pablo, and viewing the 1 million white lights that are St. Augustine's holiday celebration, the Divas hosted a "Meet-Up" of fellow Divas, aka followers of the Heels and Tevas blog and Facebook posts. Jackie Hird, Photographer; Maxine McChesney, Attorney,; Rosa Shala, Financial Consultant, and Dan and Jaye Lunsford, retired engineers and full-time cruisers were all delighted to meet Lynnelle and provide "I used to think 60 was old" feedback on the new venture and give ideas for future get-togethers.
I am sure that Barbara will be sad to see Lynnelle, Kurt, and the Littlest Pablo head back to Texas on Thursday, but have heard a rumor that her liver will be relieved."
Lynnelle here.
Yes. A good time was had by all; with and without the assistance of cocktails.  I'm so very glad to have arrived in St. Augustine when I could FINALLY unpack my suitcase and locate things I knew I packed (like underwear) but could not locate.
One note about the OpenMic experience – Painful.  For those on stage and off. Fortunately, Barb videoed the spectacle so I, too, have a chance to feel the pain – from on the stage AND off. It was fun. But, I sure sound better from the stage than off. I thought I sounded so. much better! Oh well.  I guess I'm not going to be the oldest winner of The Voice. Another dream dashed.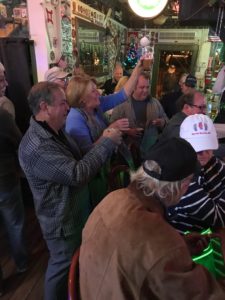 Lastly, I'd like to address Barb's quip about Lynnelle's liver and the workout it's received on this trip. Yes, she's right. My liver does need a rest. It won't get one tonight, so I'm hoping it will hold out a few more days. Barb is, however, throwing stones from her glass house.  Notice the picture below, and who is front and center hoisting her Car Bomb in the air. In case you're not familiar with a Car Bomb, it's a shooter, or more accurately, a chugger; half a pint of Guinness, with a jigger of Bailey's w/a whisky floater. You take the 1/2 pint of Guinness and drop the Bailey's/whisky jigger right into the center of the beer – and chug. Please take another glance at the picture below… While we do see Barb, we do not see Lynnelle. She draws the line at "chugging".
And Bailey's.
Just sayin'.
---
---